"Each of these playful little rascals is an irresistible handful of love. Squeeze their fat little tummies, comb their hair, or pull these pokey puppies along by their leashes. You can also help these curious pups explore their new home by twisting the bow on the back of the collar to turn their faces back and forth."
Sqwish Puppies were produced by Cap Toys in 1991. They were 4 inch tall and had big, round bellies, which were filled with a squishy rubbery substance (hence the name)! They had plastic faces, were multi-coloured with a tuft of brushable hair on their heads. They are hard to find.
Images on this page thanks to Jana!
QUICK LINKS> Find Sqwish Puppies on eBay.com
or eBay.co.uk
!
Sqwish Puppies
There were twelve puppies in all, I don't think they had individual names.
Accessories
There were a few puppy accessories listed on the box back: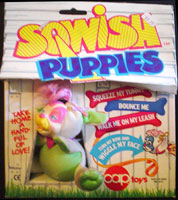 Sqwish Ball
Sqwish Ball Er?
Sqwish Ball Hots
Sqwish'e Tomato
Sqwish Dish
Sqwish Sqwash
For Sale
Comments