I found three excellent vintage items whilst charity shopping this week: the yellow Playboot by Matchbox with accessories, a Sky Dancers launcher and a Polly Pocket case. I also found a Cupcake Surprise (with hat!), five Hello Kitty figures, one Shopkins Shoppies, one Enchantimals, plush and mini Moshi Monsters, two McDonalds Furbys, a Lalaloopsy pet, a Littlest Pet Shop crab, Magiki Ladybirds and a set of keys (possibly Disney)!

Play Boot by Matchbox
I am SO excited with this find! This is the 1983 version of the boot, which opens into a school house.
All the accessories (including the bell on the roof) were stashed inside the boot. I think it is complete, but won't know for sure until I can find either a publicity shot or packaging image (possibly missing an orange chair for the teachers desk). It's in really good condition except for the slide, which has a small split waiting for me to attend to.

Sky Dancers by Galoob

Another great find was this Sky Dancers bunny launcher belonging to "Skydream" from the Fairy Flyers set. It was produced during the mid to late 1990's.

Find out more about this set and all the others here:
www.ghostofthedoll.co.uk/skydancers-fairyfliers.php
There was no doll, but this is what she looks like.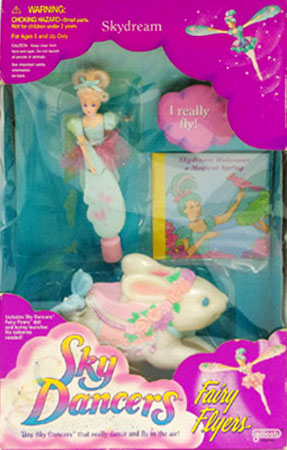 Polly Pocket by Bluebird

And my third great find was an original 1989 Polly Pocket case, minus doll, skirt and bear. It is called Partytime Surprise.

Cupcake Surprise
Finally, a Cupcake Surprise with her hat! This one is called Jenny.

Hello Kitty
It's hard to find out set names for Hello Kitty figures are there are SO many of them now! The closest I can find are Rah Rah Rah Kitty Figurine Set for the three kitties with bows, and Bathtime Kitty Figurine Set for the two with flowers (one kitty missing). These are the US names, at least. They are dated 2006 on the boxes, and 2009 on the backs of their heads. They are made from quite solid plastic and are about 5cm high.

They aren't painted quite the same as the US packaged version, but the moulds are identical (possibly a US/UK difference).

Shopkins: Shoppies ~ "Rainbow Kate"

She's still wearing her original skirt, but is missing her hairband, shoes and four accessories. Her hair is fantastic!

This is her in packaging.

Enchantimals ~ "Bree Bunny"

This is the first Enchantimals doll by Mattel I have come across during charity shopping as they only came out in 2017. She's called Bree Bunny. She still has her original collar, but is missing her skit, shoes and bunny companion.

This is her in packaging. Hopefully I'll find a few more as time goes on as they are really cute.

Moshi Monsters: Moshlings Collection ~ "Purdy" & Mini

Still with her tags! Purdy is from the second wave of plush Moshlings, from 2014. I also found a golden miniature cake figure.


Furbys
I just can't help myself!

Mini Lalaloopsy: Horses ~ "Hazelnut"
There were six mini horses produced and sold separately.

This is Hazelnut in her packaging.

Littlest Pet Shop
This crab is #1403. It originally came with a watermelon slice.

This is the original packaging from 2009.

Magiki Ladybirds ~ "Desiree"

I found this lovely little purple bug creature called "Desiree".

Unknown Keys

I found an oversized plastic ring (Disney) with three pink keys attached to it which I have yet to identify.