Fairy Tails :: Baby Flyers
"Birds with happy endings!"
Fairy Tails were produced by Hasbro in 1986/87. They were a series of colourful plastic bird with long hair and symbols on their chests, similar in colour to My Little Pony. Each bird came with a perch which their feet could grip onto when they were no longer gripping onto your fingers! They also came with a comb and ribbons for their long multi coloured hair. There were a few playsets produced but I don't know of any other accessories.
[eBay links are sponsored]
Images on this page thanks to Linda, Knot A Toy, Etsy sellers Starrylitvintage, SBVintageAndDesign, Flickr member COCO Toys, and eBay sellers tokyo-never, Dennis Collectibles Dolls And Toys, jouets_lenoir_2006 and flossiebug!
Baby Flyers
"The newest flock of pretty little pastel coloured Fairy Tails has just hatched! Cute little Baby Flyers are peeking through tinted eggs that kids can also use as a purse. Their feet open and close so they can sit on their perches or stand up on a flat surface. And Baby Flyers can hold things in their wings too. Each Baby Flyer comes with its own egg, perch and either pacifier, bottle or rattle accessory."
Baby Flyers were smaller, chubby baby birds which came inside a transparent egg. They also came with a small perch, comb, ribbon and one small accessory they could hold in one wing where a little gap was created. Their symbols were on their painted-on bibs.
Teddi Tails
Teddi came with a yellow egg, green stand, pink comb abd white rattle.
Tid Bit Tails
Tid Bit came with a blue egg, purple stand, blue comb and yellow bottle. It was also sold with a yellow egg in Europe.
Tiddly Winks Tails
Tiddly Winks came with a blue egg, green stand, white comb and orange dummy.
Tinker Tails
Tinker came with a pink egg, pink stand, pink comb and purple rattle.
Toddler Tails
Toddler came with a pink egg, white stand, blue comb and green dummy.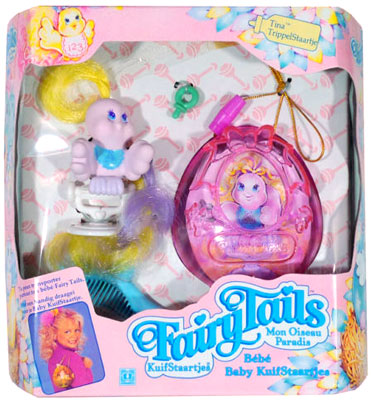 Tubby Tails
Toddler came with a blue egg, blue stand, blue comb and purple bottle.
Publicity
This image of from a 1988 Hasbro Catalogue.
For Sale