Fairy Tails :: Playsets
"Birds with happy endings!"
Fairy Tails were produced by Hasbro in 1986/87. They were a series of colourful plastic bird with long hair and symbols on their chests, similar in colour to My Little Pony. Each bird came with a perch which their feet could grip onto when they were no longer gripping onto your fingers! They also came with a comb and ribbons for their long multi coloured hair. There were a few playsets produced but I don't know of any other accessories.
[eBay links are sponsored]
Images on this page thanks to Linda and eBay sellers wellington_100, sebastion12012, tinkerbeee and skne!
Playsets
There were three playsets produced which came with their own new bird. There was also one playset shown in a Hasbro catalogue which never made it into production.
Curly-Q Boutique / Egg Salon
"Make an appointment at the Curly-Q Boutique! Little girls will enjoy primping their Fairy Tail birds in this egg shaped playset that's also a beauty parlor. There's a mirrored vanity, spinning birdbath and lots of perches all around. Hooks and window boxes hold accessories. Comes with Tiffany Tails, curlers, comb, brush, ribbon and barrettes."
There were three playsets produced, each one coming with its own new Fairy Tails bird. The Curly Q Boutique was also known as the Egg Salon. It came with Tiffany Tails, who had a feather necklace symbol.
The playset also came with:
Hair Curlers (yellow)
Comb
Brush
Ribbon
Hair Clips (blue bows)
Packaging
Hasbro Catalogue 1988
Love Birds
This playset came with two birds called Love Tails and Kiss Tails which had raised heart symbols. The heart-shaped pirch could be hung by a ribbon or clipped into it's case to stand. The set also came with a comb.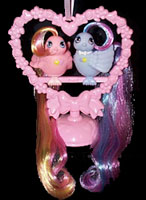 Sunshine Gazebo
"Welcome to the Sunshine Gazebo! This two-level house has a kitchen, living room, bedroom and dressing room on the first floor and a luxurious patio, complete with swing, on the upper level. There's even an elevator in the centre of the Gazebo that moves up and down, plus lots of perches for other Fairy Tail friends! Comes with Tea Rose Tails, table, chair, mirror, cups, saucers, bowls, teapot, sink, bed, umbrella, comb, ribbons and hair netting."
The Sunshine Gazebo came with Tea Rose Tails, who had a teapot symbol.
Packaging
Hasbro Catalogue 1988
Unreleased Playsets
"There's no place like Home Tweet Home! Baby Tippy Tails and her Fairy Tail friends like to gather in this pretty bird house and chirp the day away. Bird house makes a delightful chirping sound when a child blows the special whistle. There's a mirror for admiring a new hairdo, a swing for an afternoon ride and a large, revolving perch that holds three Fairy Tails, plus lots of other perches around the house for visitors. Mirror, swing and large perch are removable for separate play. Perch on top is also a convenient carry handle with a hole in the centre that allows adults to string a cord through it and suspend the house like a bird cage. Comes with Baby Tippy Tails, comb, barrette and hair netting for hair styling fun."
There was one unproduced playset, never making it any further than the Hasbro catalogue. It would have come with Baby Tippy Tails.
For Sale