Fairy Winkles :: Fairy Pretties
"FairyWinkles ... they appear in a twinkle!"
Fairy Winkles were produced by Kenner in 1993-95. They were sets of tiny fairies which came with various playsets to hide and play in.
They were sold in the US, UK, France and Germany.
UK & US: Fairy Winkles
Euro: Folly Magic
[eBay links are sponsored]
Images on this page thanks to KNot a Toy and eBay sellers salamanda10, irishgirlspotofgold71121, nursepolly21, christ-eternal, dewey240, redstag36, Dennis Collectibles Dolls And Toys, tinkerbeee and momstheanswer!
Fairy Pretties
There were three sets in the Fairy Pretties Collection.
Magic Mirror Swan
Peek-In Perfume Bottle
Sweet Dreams Compact
Magic Mirror Swan
"Fairy Grace FairyWinkles and little Flitter and Flutter WeeWinkles just love to admire their reflections - and yours - when you remove the swan from the lovely mirror! Push down the magical swan's head to spread open its wings, and help your new friends make a special appearance! Lift up swan's head to close its wings again. Attach you favourite pierced earrings to swan's wings and the FairyWinkles watch over them while you're away! Aren't they sweet?"
The Magic Mirror Swan playset came with:
Swan
Mirror
1 FairyWinkles (Grace)
2 WeeWinkles (Flitter & Flutter)
Packaging
| | | |
| --- | --- | --- |
| | [no image] | |
| US Packaging | UK Packaging | Euro Packaging |
Peek-In Perfume Bottle
"Playful Whiff FairyWinkles and friends Sniff and tiny Achoo WeeWinkles love to play their favourite game of hide and seek with little girls like you! Make sure cap of bottle is all the way to left, open door, place Whiff FairyWinkles, Sniff or Achoo WeeWinkles inside, close door, and turn cap to right! Open door again and they've magically disappeared! Close door, turn cap back to left, open door, they've come back to to play! Can you keep up with their silly tricks?"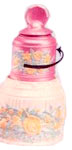 The Peek-In Perfume Bottle playset came with:
Perfume Bottle
1 FairyWinkles (Whiff)
2 WeeWinkles (Sniff & Achoo)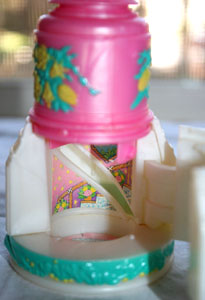 Packaging
| | | |
| --- | --- | --- |
| | | |
| US Packaging | UK Packaging | Euro Packaging |
Sweet Dreams Compact
"Five happy WeeWinkles all in a row in invite you to join their slumber party! Pop open the compact and say hello to Cozy, Dozy, Stretch, Yawn and Snug'ems WeeWinkles playing in their comfy living room! When they get sleepy, use your favourite WeeWinkle's flower hat to hook and lift up the living room floor, and you'll discover a snug bedroom where you can tuck them safely in their beds! They're such sleepyheads!"
The Sweet Dreams Compact playset came with:
Shell Compact
5 WeeWinkles (Cozy, Dozy, Stretch, Yawn and Snug'ems)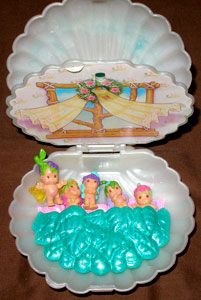 Packaging
| | | |
| --- | --- | --- |
| | [no image] | |
| US Packaging | UK Packaging | Euro Packaging |
For Sale