Furskins :: Playsets
"Meet the Furskins...the cutest country critters you ever did see!"
Furskins were produced by Panosh Place from 1983 to the late 1980's and designed by Xavier Roberts (designer of the Cabbage Patch Kids). There were sixteen small, fuzzy poseable bears, six small plush bears and sixteen large plush bears too. They were all fully dressed, including hat and boots, and there was also separate clothing available plus at least one playset.
[eBay links are sponsored]
Images on this page thanks to Wish Book Web and various eBay sellers!
Playsets
There were at least two playsets produced, which each came with small flocked poseable bears.
Moody Hollow Express
"Too, too! All aboard the Furskin Express. This chuggin' choo-choo has three special cars...and it really moves (on flat surfaces). Toot the horn, flash the lights and ring the bell...this train does it all. includes 3 poseable flocked passengers: Boone, Orvill and Hattie."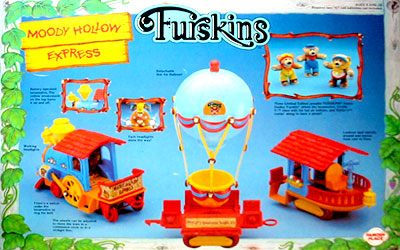 Boone, Orvill and Hattie
Moody Hollow General Store
"Welcome to the Moody Hollow General Store. "That there" is poseable flocked Dudley Furskin (included), he minds the shop. And his store has fresh-baked pies, a soap-box racer, hammock and more."
For Sale