Fuzzy Felt :: Toy Brokers
"Make amusing pictures with gaily coloured felt shapes!"
Fuzzy Felt were produced by Allan Industries from 1950 onwards and were felt shapes which clung to a fuzzy board for endless picture variations. They reached their height of poplarity in the 1970's and are still going strong today, with old and new sets now produced by John Adams/Toy Broker.
[eBay links are sponsored]
Images on this page are either mine or thanks to various eBay sellers!
Toy Brokers
Toy Brokers took over production around 2006, producing lots of new sets. The company then merged with John Adams in 2009, who and took over production of Fuzzy Felt first still under the "Toy Brokers" name, then under their own.
This page has the sets produced solely Toy Brokers before being merged with John Adams. All packaging produced solely by Toy Brokers featured the running man character, whereas after the merger they had a slightly different "Fuzzy Felt" and "Toy Brokers" logo (see the John Adams page for more information and images of these sets).
Traditional Sets
There were six "Traditional" Fuzzy Felt sets produced, based on the original designs.
Ballet
Dinosaurs
Horses
Hospital
Jungle
Sealife
Classic Sets
These sets look to included some the original shapes and were made with simple plain felt shapes.
Animal
Farm
Friends
Funny Faces
Pictures
Playhouse
Princess
Sport
Trucks, Trains and Tractors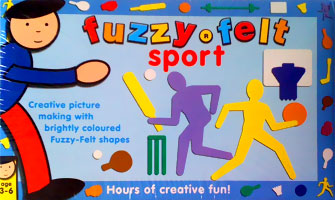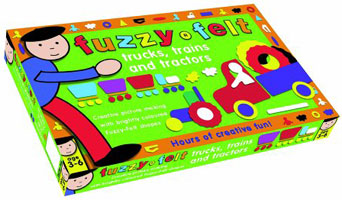 Other Classic Shaped Sets
Circus
Playtime
Transport
Pictures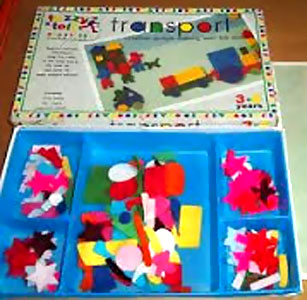 Deluxe Sets
Deluxe Wooden Compendium
Glitter Princess Deluxe Set
Anniversary Compendium Tin
Character Sets
Postman Pat
Teletubbies
Thomas The Tank Engine
Thomas & Friends
Laminated Character Sets
These well known character sets came in both boxes and tins (some both). The main character pieces were laminated cardboard prints stuck onto felt, and there were normal felt pieces too.
Mr. Men Show
Tractor Tom
The Beatrix Potter Collection
Fireman Sam
Bob The Builder
My Little Pony
Noddy
Postman Pat
Rupert Bear
Thomas & Friends
Colorettes
These sets each contained three felt images to colour in with the six provided felt tip pens.
Animals
Dinosaurs
Horses
Machines
Toys
I've also found a couple of character Colorettes.
Nursery Rhymes Sets
These sets each contained two nursery rhyme themed pieces.
Baa Baa Black Sheep & Old Mother Hubbard
Humpty Dumpty & Hey Diddle Diddle
Jack and Jill & Hickory Dickory Dock
Mary Mary & Little Miss Muffet
Travel Tin Sets
These were a few tinned sets produced, measuring 14.6 x 10.4 x 2.6 cm.
Beach Travel
Space Motering
Space Travel
Sport Travel
Sweetshop Travel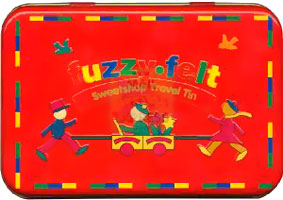 Match It Sets
These were a few teaching sets produced made with laminated felt pairs.
Alphabet
Counting
Money
Time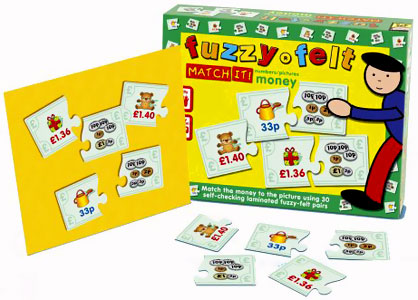 Floor Puzzle Sets
There were a few giant floor puzzle sets produced.
Crazy Luggage
Mouse House
Party
Elephants On Parade
Fancy Dress
Numberland Express
Other Sets
Teaching Clock
Felt By Numbers - Cottage Garden
Rainbow Painting
Rainbow Painting - Deluxe Set
Funny Faces Game
Red Bears Game
These two sets may have been A3 in sze.
For Sale