Kidgetts :: Playsets
"Micro Poseable Dolls!"
Kidgetts were produced by Meritus in 1989/90. They were micro poseable dolls (11/4 inch high), with molded clothes and brushable hair. They also had fashion sets and playsets.
Images on this page thanks to Sara, Zuse and Mark!
Playsets
There were at least six playsets produced, and I believe each one came with a new doll.
Picture Pretty Micro House
The Picture Pretty Micro House had lots of accessories included. It appears to have been sold in in two different colour variations. I don't know what the doll looked like that came with this playset.
Colour Variation 1
Colour Variation 2
Two-in-One Playsets
These four medium sized playsets were about 4 inches high and came with a doll, stand and comb. They opened up from either a pair of ballet shoes, a purse, a large jewel or stopwatch to reveal a small playset inside with a few accessories.
Ballet Today - Toe Shoes and Ballet Theatre
Chic Boutique - Purse and Boutique
Room To Groom - Jewel and Powderpuff Room
Trim Gym - Stopwatch and Workout Center
Ballet Today
Chic Boutique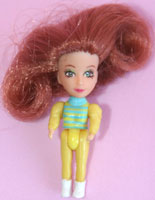 Room To Groom
Trim Gym
Kim & Her Spots Car
The Sports Car came with a Kim doll. The car may also have been sold in blue but I am yet to find an image of it.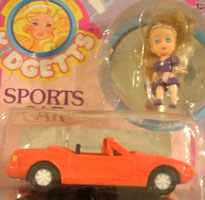 For Sale