Krystal Princess :: Dolls
"Dreams come true with a shake from you!"
Krystal Princess was produced by Playskool/Hasbo in 1992. They were small dolls which came inside a snow-globe type dome which sat on a base. The dome contained liquid and various shaped glitter. Each doll also came with a skirt, crown and comb. There was also a series of Unicorns and Pegasis produced as well as three playsets and at least two books.
US packaging was marked Playskool, and Euro packaging Hasbro (Hasbro aquired Playskool in 1984).
[eBay links are sponsored]
Images on this page thanks Lara & Jana, Nicola, or found on eBay, including sellers Brainys-Toys-and-Collectibles, itsjarel and Dennis Collectibles Dolls And Toys!
Dolls
"Imagine a land faraway, hidden behind the clouds so high, where everything sparkles like diamonds, and shimmering krystals fall from the sky.
This is the World of Krystal Princesses, filled with krystal dreams, and every time a krystal falls, magical things happen, it seems. Each princess makes dreams come true, in her own special way, to make the world more beautiful, and a better place to stay. Some use the forces of nature, to make things sparkling bright, others listen to your dreams, to bring joy and delight. Just give their domes a shake, and see the magic they will make.
Their magic is everywhere a krystal may fall...here, there or anywhere at all. All they need is a shake from you to make a dream come true. So look around and you will see, just how wonderful krystal dreams can be!"
These are the dolls I have found so far, separated into similar types which I believe could be different sets but I don't know their names. Their crowns could fit onto the tops of their domes, which was how they were presented in their packaging. There appears to have been about six dolls per set and were produced as both white and black dolls.
Frilly Shimmer Bases
I know of six Krystal Princess's with frilly shimmery bases. Each doll came with a skirt, crown
Packaging
Springtime
Clear Glittery Bases
I know of six Krystal Princess's with transparent glittery bases. Each doll came with a skirt, crown and glittery comb.
Magic
Seashells
Sunbeams
Treats
Tropics
Packaging
| | |
| --- | --- |
| | |
| Magic | Seashells |
Stars
Moulded Bases
There were at least four Krystal Princess dolls who came in domes with hearts, swans, butterflies and flowers moulded bases. There was also a male doll produced with the same style base, but different top (see bottom of page). Each base had one of the items highlighted with paint. The glitter in the domes matched the item highlighted on their bases.
Packaging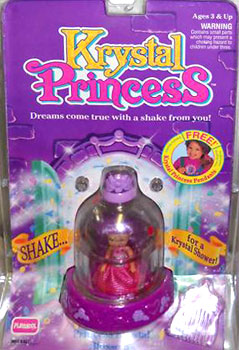 Blossom
Hearts [UK/ Euro packaging]
Deluxe Domes
I know of three Krystal Princess dolls with deluxe domes which could be separated into three parts (base, dome and arch). Each doll came with a skirt, crown and comb.
Packaging
| | |
| --- | --- |
| | |
| Bride | Holiday |
Other Domes
I have found one doll which doesn't fit in any group. It has the same dome top as the Unicorns and Pegasi and a molded base. The Prince may also have been released as a white version too.
Prince
For Sale