Li'l Me :: Playsets
"The fun fashion doll for little hands!"
Li'l Me were produced by Schaper from the late 1970's to early 1980's. There were a series of small plastic dolls, about 4 inches high, who came with soft plastic outfits. There were lots of fashion accessories and a playset available.
[eBay links are sponsored]
Images on this page thanks to eBay sellers seaweesweetie and vixengirl!
Playsets
There was one playset produced called Lil' Me Boutique.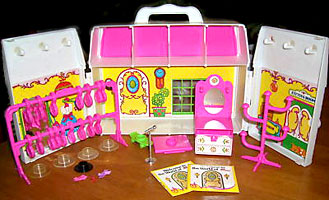 For Sale