Magic Merbabies :: Other Dolls
"Create fun colours in you bath!"
Magic Merbabies were produced by Hasbro/Vivid Imaginations around 2001-04 (In Italy they were produced by Gigi). They were a series of small dolls with mermaid clothing and colourful hair, made for play in water. Each doll came with a packet of "Fizzy Tints" (also called "Bath Tints"), for colouring bath water. There were also a few playsets produced.
They were sold in parts of Europe under varying names:
France: Mes Jolies Petites Sirènes (My Pretty Little Mermaid)
Italy: Magiche Piccole Sirene (Magical Little Mermaid)
Germany: Zauberhafte Badenixen (Magical Mermaids)
[eBay links are sponsored]
Images on this page thanks to Georgia (as well as lots of imformation), Ina.fr, eBay sellers including Collezionandoroma, downtownmanhattan and Retropazzia, and GOTD Forum member vaughanh7!
Other Dolls
There was one special offer doll in the UK, a single doll released with a vanity case, two playset dolls, and a large "Queen Of The Seas" doll.
UK Special Offer Doll
The UK had one special offer doll called Lily, available with 6 points plus £1.00. In the US, she was called Sea Violet and sold with their version of the original set of six dolls (which differed from the UK/Euro release).
Hair Fun Vanity Case
There was one doll produced which was sold with a vanity bag containing several hair accessories, a small animal friend (blue and pink sea horse with yellow tail, not pink as in publicity image on right) and a packet of Fizzy Tints. The doll was called Buttercup.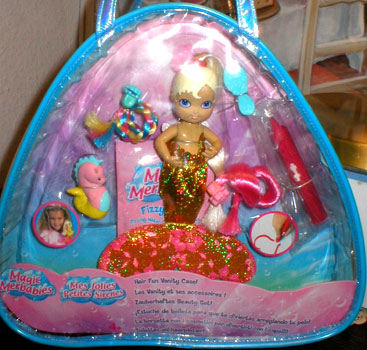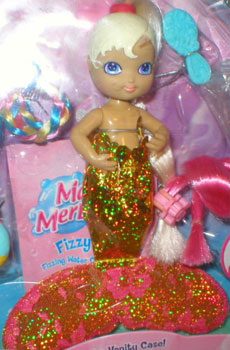 Playsets Dolls
There were at least two exclusive playsets dolls. An unknown doll came with the Euro version of the Magic Water Palace, and a doll called Iris came with the Magical Seahorse playset.
Queen Of The Seas
"Sings and lights! The starfish contains many splendid jewels. Join the sea jewels to create a fantastic bracelet just for you. Her hair changes colour as if by magic. Listen to her sing. She also has a magic wand." (a rough translation of the packaging!)
There was one large doll produced, which could light up and sing. She was about 34cm tall and came with a wand, brush and plastic starfish containing several small sea jewels, which sounds like they could clip together to form a bracelet.
This doll was also produced by MGA Entertainment and sold under the name of "My Beautiful Mermaid", with no mention of the Magic Mermaids line.
"She's a princess who magically becomes a mermaid! My Beautiful Mermaid magically changes hair color from beautiful blonde to enchanting pink when placed inside water! Listen to her sing and light up when you remove her from the water or press her magic star! Decorate her with sea charms that light up! Decorative mermaid jewelry, wand, tiara, and sea charms, magically transform into incredible fashion jewelry for you to wear! Safe for pool and bathtub!"
My Beautiful Mermaid Hair Changes Color from Beautiful Blond to Enchanting Pink when Placed Inside Water
My Beautiful Mermaid Sings and Lights Up when Removed from the Water or when her Magic Star is Pressed
20 Decorative Sea Charms Light Up When Placed onto Tail
Decorative Mermaid Jewelry Doubles as Awesome Jewelry for You to Wear:

Charm Bracelet
Earrings
Hair Accessories
For Sale