Magic Merbabies :: Teeny
"Create fun colours in you bath!"
Magic Merbabies were produced by Hasbro/Vivid Imaginations around 2001-04 (In Italy they were produced by Gigi). They were a series of small dolls with mermaid clothing and colourful hair, made for play in water. Each doll came with a packet of "Fizzy Tints" (also called "Bath Tints"), for colouring bath water. There were also a few playsets produced.
They were sold in parts of Europe under varying names:
France: Mes Jolies Petites Sirènes (My Pretty Little Mermaid)
Italy: Magiche Piccole Sirene (Magical Little Mermaid)
Germany: Zauberhafte Badenixen (Magical Mermaids)
[eBay links are sponsored]
Images on this page thanks to Georgia (as well as lots of imformation), Ina.fr, eBay sellers including Collezionandoroma, downtownmanhattan and Retropazzia, and GOTD Forum member vaughanh7!
Teeny Merbabies
There were three Teeny Merbabies produced, sold individually or as twins. Whether sold singularly or as twins, each doll or pair came with one Mer-pet (even smaller than before), a brush, one packet of "Tub Tints" and clothing with tail, where the Tub Tints could be placed. There is also mention of "Sea Jewels".
Violet & Heather (Italian - Corallina) c/w mer-poodle (blue w/orange)
Holly & Ivy (Italian - Allegra) c/w mer-cat (yellow w/green)
Snowdrop & Daisy (Italian - Perlina) c/w mer-bunny (pink w/purple)
Violet & Heather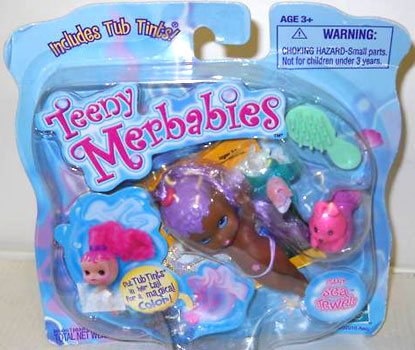 Holly & Ivy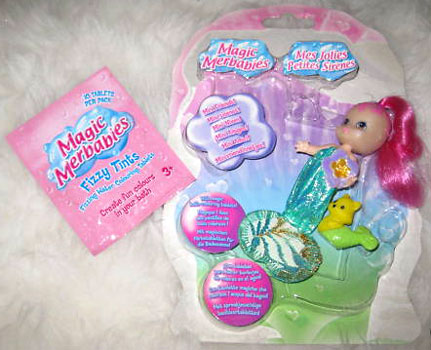 Snowdrop & Daisy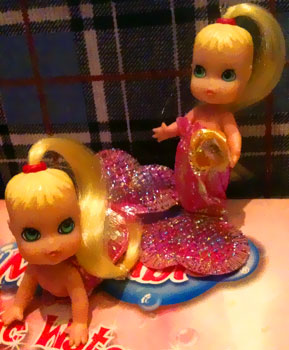 For Sale