Moondreamers :: Books
"Brighten up your dreams!"
Moondreamers were produced by Hasbro in 1986, and were very short lived. The dolls were all outfitted in a celestial theme, using lots of lamé and metallic fabrics as well as glow in the dark elements. In addition, their hair glowed in the dark, and they all had stars in their eyes. Each doll also came with a figure stand and jewel necklace. Later releases came with "Dreamtails" instead of jewel necklaces. It is interesting to note that the Hasbro catalogue for 1988 had many new Moondreamer dolls and accessories which were never produced, a great source of wonder for Moondreamer collectors! As well as the dolls, there was an animation, accessories, playsets, books and an annual.
[eBay links are sponsored]
Images on this page were found on eBay, with thanks to various sellers!
Books
There were several story books produced, sticker and colouring books and one annual.
Story Books
Dream Crystal Swap
Scowlene's Meddlesome Music
Whimzee's Yellow Creation
Roary's Rescue Party
Bitsy's Special Star
Whimzee and the Singing Cakes
A Double Celebration in Starry Up
A Problem in Starry Up
The Dream Machine
Evening Song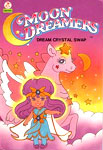 Annuals, Colouring Books & Activity Story Books
Sticker Books
Skyquake in Starry Up
The Invisible Stars
For Sale