Peppermint Rose :: Animals
"A magical land where you make floral and candy scented perfume!"
Peppermint Rose were produced by Mattel in 1992. They were a series of scented dolls very similar to Lady Lovely Locks. There was also fashions, animal friends as well as related merchandise and an animated video.
Peppermint Rose was sold in the US/UK and in Europe under different names:
USA/UK: Peppermint Rose
Europe: Les Belles de Parfum
[eBay links are sponsored]
Images on this page thanks to Jana, Karen's Toys, Miss Leonie, Eden Eye, nhtpirate, Veni Vidi Dolli and eBay sellers TheAtomicStarr!
Animals
There were two sets of animals friends produced, each set containing three characters (all bunnies).
Sweet Sprays
Candy Blossoms
Sweet Sprays
"Make your own sweet play perfume. Pour into Sweet Spray and mist on. Three adorable animal friends who spray candy-floral perfume! Each comes with 12 floral and 12 candy scented Perfume Petals girls dissolve in water to create sweet scents to wear. Girls simply pour water into rotocast animal atomizers, add "flowers," fasten flower cap, and squeeze. Sweet Sprays have floppy fabric cars in candy-floral prints that coordinate with the dolls."
Sweet Sprays atomisers were three plastic bunnies with large, floral printed fabric ears. They could be filled with the perfume provided and squeezed to mist out the scent. In Europe they were called shortened versions of their US name (the only one I currently know is Bubbly instead of Bubblegum Daisy). They were about 5 inches high.
Peppermint Posy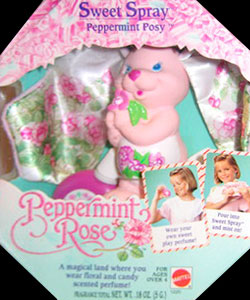 Bubblegum Daisy / Bubbly
Lemon Kiss Blossom
Candy Blossoms
"Soft plush Candy Blossoms have scent-sational surprises! Hug and squeeze each, and a pop-up flower "blooms" into view. This special flower holds a solid candy perfume and a solid floral perfume. Girls blend perfumes together to create sweet candy-floral scents they can wear. The Candy Blossoms are so shy they "hide" behind their long, floppy ears. Girls make them "bloom with love" by flipping back their ears to reveal beautiful floral prints on tummies, feet, and inside ears. Candy Blossoms come in 3 different candy-floral themes and colours."
Candy Blossoms were plush bunnies with large, floral printed fabric ears and belly. The flower on the top of their heads held two solid perfumes. When you squeezed their tummies, the flower "bloomed" upward, and in the middle was the perfume holder. They were about 12 inches high from toe to head. The shop bought Candy Blossoms had slightly different fabric used for their feet, ears and bellies than the US publicity image below. In Europe they were called shortened versions of their US names (the only one I currently know is Lolly instead of Lolly Pop Posy).
| | |
| --- | --- |
| | |
| Lolly Pop Posy | Bubblegum Violet |
Candy Carnation
"Hug them and a flower pops up! Inside the flower is sold perfume."
For Sale