Pillow People :: Large
"You play with me... We watch TV... and then at night you hug me tight and all is right!"
Pillow People were produced by Spring Industries and PCE Marketing in 1986-88. They were a fairly large series of large pillow shaped fabric characters with fabric arms and satin legs, and bold printed features. They were sold in the home furnishing department rather than toy isle. In 1996 Kidsview re-issues six characters, in 2002 Best Brands re-issued at least three characters, and in 2009 InVision bought the rights but nothing seems to have come of beyond a now defunct website.
[eBay links are sponsored]
Images on this page thanks to Etsy sellers SBVintageAndDesign, OliveandFrances, and eBay sellers zap18, wavysjunque, shopmisseloise, mhwig36, mareetomko1, gnosis92179, darby0809, tampabaytoysandcollectibles, tcbs1984 and monalisa112266!
Large Pillow People
There were lots of characters produced. The large ones measured around 20 inches (excluding legs), and had fabric loops on their backs. The small ones measured around 5 inches (shown on their own page).
They were sold in cellophane wrappers with a cardboard top. Inside they had a large tag/leaflet folded in half (or more) with a description of the character sold and a story inside. The later additions had the Pillow People logo on their bums (late 1987 to 1988) which the earlier characters did not.
There were six characters produced at first, at least for of which were produced in mini size too.
| | |
| --- | --- |
| | |
| Big Footsteps | Mr Sandman |
| | |
| --- | --- |
| | |
| Pillow Fighter | Punky Pillow |
| | |
| --- | --- |
| | |
| Rock-A-Bye Baby | Sweet Dreams |
"These noises in the night want to be your friend."
Three characters with a bump-in-the-night theme were added, which Big Footsteps was then grouped. It is interesting to note that Squeaky Door is the only character I have found produced originally without the bum logo, then later on with it. I have also found two of these three in mini size.
| | |
| --- | --- |
| | |
| Squeaky Door | Window Rattler |
Thunderclap
These two are college themed and were introduced around 1986. I don't think they were as popular as some of the other characters, making them harder to find today.
| | |
| --- | --- |
| | |
| Jill College | Joe College |
Stardust was a later edition in 1986. This one is hard to find.
Stardust
This one is based on the Blue Bonnet Sue character and apparently limited edition. She has a bum logo and dates from around 1987.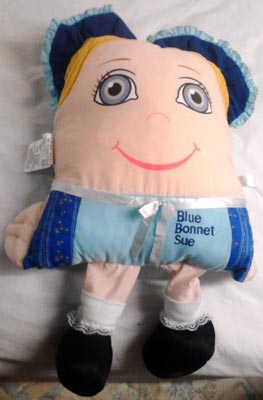 Blue Bonnet Sue
Large Pillow Pets
There were four large animals added early on, plus a dragon slightly later. It is interesting to note that before they were released four of these five had different names on the promotional tag packaging of currently issued characters. I've also found one of these three at mini size.
| | |
| --- | --- |
| | |
| Drowsy Dog | Little Bo Peep |
| | |
| --- | --- |
| | |
| Little Sleepurr | Hugga Bear |
This dinosaur character, called Dina Snooze, could be folded like a pillow or opened out long. Unlike all the characters above, this one has the "A Pillow People Original" logo on it's back.
For Sale