Pound Puppies :: Tonka ~ Figures
"Lovable, Huggable!"
Pound Puppies were produced by Tonka between 1985-1988. They are the most well known of the 1980's production run of Pound Puppies as they were producing for the US market. They also introduced Pound Pur-r-ries, Rumpleskins, Newborns and Furries as well as fashion outfits, plastic figures, miniatures, games and many other related merchandise.
[eBay links are sponsored]
Images on this page thanks to Eilonwe, Kathy's Fast Food Toys and eBay seller ToysCouncil!
Poseable Figures
There were six plastic poseable puppies produced.

Miniatures
There were eight miniature figures produced of the characters from the Pound Puppies cartoon series, plus I found Catgut and Nabbit miniatures too.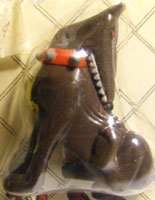 These four figures, also based on the cartoon characters, came with the "Wind Up Getaway Railroad Getaway" game.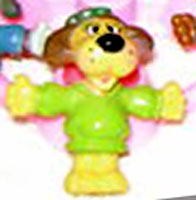 I don't know anything about these figures other than they are marked Tonka.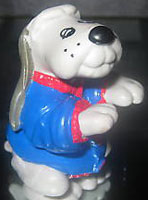 Remote Control
For Sale