Rainbow Brite :: Playsets
"Welcome to the colourful world of Rainbow Brite!"
Rainbow Brite started life as an animated television series introduced by Hallmark in 1984. From there came plush dolls, poseable PVC figures and miniatures, playsets and an abundance of other accessories including books, videos, comics, stationary, bedding and much more. Rainbow Brite was re-issued
[eBay links are sponsored]
Images on this page thanks to nhtpirate, Electra or found on eBay,
Playsets
These were three vehicles produced for varying sized dolls.
Colour Buggy
Sailmobile
Spritecycle
| | | |
| --- | --- | --- |
| | | |
| Colour Buggy | Sailmobile | Spritecycle |
Sailmobile
"The Sailmobile takes the Colour Kids everywhere in Rainbow Land. It can carry Rainbow Brite and one of her friends, and it even has a special place for sprites. Children can hoist the sail and steer the Sailmobile to all kinds of imaginative adventures. For even more fun, the wheels wobble back and forth, and the seats come out. The Sailmobile is designed for use with 9" Rainbow Brite dolls and their sprites."
Colour Cottage
"This soft, colourful play house is chock full of fun. It has a table, "mirrored" vanity, two plastic chairs, bed and pillow, two plates, two cups and a comb. And for sprites, there's a cozy wall pocket. Best of all, when children are through playing, the Colour Cottage snaps up and becomes a carrying case."
The Colour Cottage was made for the 9 inch dolls and doubled as a carry case. It came with:
1 x table
2 x chairs
1x long rainbow pillow
1 x small pillow
2 x green cups
2 x orange plates
1 x vanity table with star mirror
1 x Brush
This is the only other playset I have found (a hammock).
Colour Pockets
Colour Pockets were (mostly) fabric wall-hangings with a pocket to fit in a doll or Sprite. There were five different designs.
Doll Fashions
These are the Doll Fashions I have found so far.
Baby Brite Carrier
Cuddle Star
Slumber Set
| | | |
| --- | --- | --- |
| | | |
| Baby Brite Carrier | Cuddle Star | Slumber Set |
Cuddle Star
"This quilted bunting keeps Newborn Star or Baby Brite warm and cozy wherever she goes. It opens and closes easily and has a pocket to hold accessories."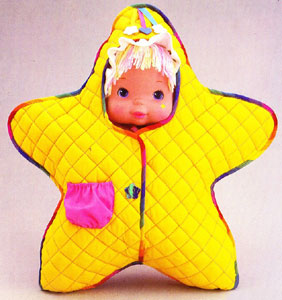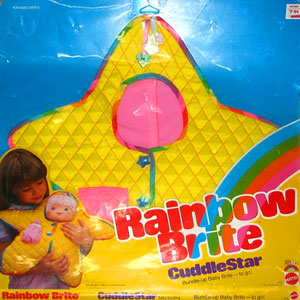 For Sale