She-Ra :: Fantastic Fashions
"The most exciting and powerful woman in the universe!"
She-Ra: Princess of Power toys were produced by Mattel from 1984-87. Each doll was 5-1/2 inches tall with brushable hair and came with various clothing and accessories. There were also winged horses which the dolls could ride along with several other animals, playsets, fashions and many other accessories for little girls to use plus an animated cartoon series. The line was discontinued in 1987.
[eBay links are sponsored]
Images on this page found on eBay, thanks to various sellers!
Fantastic Fashions [1986]
There were no fashions produced until 1986 when the first eight were released, followed by another eight in 1987.
Deep Blue Secret
An ocean blue outfit with a secret map of the sea!
Includes: Skirt, Headpiece, Fish Shield & Secret Map.
"Guess what! I have a secret map. A map of a world below the sea that leads to buried treasure! And if you promise not to tell a soul, I'll show you were the map is hidden. See, right here behind the blue fish shield that matches my beautiful blue gown! Now come with me in search of the secrets of the sea!"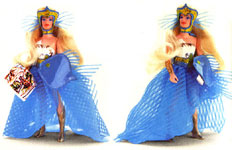 Fit To Be Tie
A glamorous gown with life-saving scarf!
Includes: Skirt, Headpiece, Sparkly Vest, Chiffon Train & Scarf.
"I think this fancy blue gown is perfect for dancing across the ballroom floor with Bow. But little dose he know my beautiful blue scarf is really a lifesaving "rope." I can use it to rescue someone in trouble, even that nasty Catra!"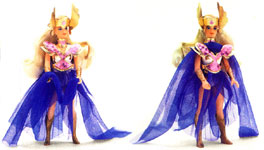 Flight Of Fancy
Pretty pantaloons plus magical winged sword and shield!
Includes: Pantaloons, Sword, Winged Shield, Winged Sword Holder & Chiffon Train.
"This is what I like to wear when Crystal Swift Wind and I soar above the clouds of Etheria. I'm ready for any adventure that comes my way. Just let Catra make her mischief! I'll simply call to my magical sword and shield, and instantly, they'll fly to my side!"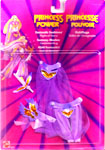 Flower Power
A green party gown with powerful surprise flowers!
Includes: Skirt, Vest & Flowery Shawl.
"I love strolling in my garden in this dress. The flowery shawl always makes me feel sunny. But let danger cross my path, and I've got flower power! The pretty posies on my shoulder pull out to push trouble away! Take that, Entrapta!"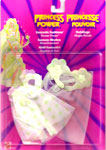 Hold On To Your Hat
A pretty hat that becomes a secret shield!
Includes: Dress Armour, Parasol Cover, Hat/Shield & Sword.
"This is a great outfit! It turns any party Catra attends into a surprise party. When Catra starts in with her tricks, is she in for a surprise! My sparkly hat becomes a light-blinding shield. And the pretty parasol is really a cover for my sword!"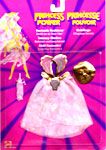 Ready In Red
A furry winter outfit hides a powerful suit of armour!
Includes: Furry Cape, Headpiece & Reversible Dress of Armour.
"Let the weather do its worst! I don't care. This soft furry skirt will protect me from the cold. And I can turn it inside out to protect me another way, as a suit of armor! The special cape doubles as a net, to trap Entrapta, or to save someone in trouble!"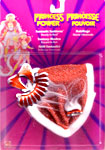 Rise & Shine
A lacy lounging gown that hides a sparkly suit of armour!
Includes: Bedjacket, Skirt & Sparkly Suit of Armour.
"I love to relax in my lacy lounging gown, but I'm always ready to defend Etheria. Quick! Glimmer is cornered by Catra nearby. I must save her! Little dose Catra know this lacy gown hides a sparkly suit of armor! I take off my robe and it' She-Ra to the rescue! Watch out, Catra, here I come!"
Veils Of Mystery
Layers of veils hide a secret sword!
Includes: Skirt, Sword Holder, Vest, Cape of Veils & Sword.
"Don't you love surprises? I do! That's why I love this dress. Underneath these layers of veils, underneath the shimmering trim, is a special secret sword. So when trouble tries to take me by surprise, I can surprise it in return!"
Fantastic Fashions [1987]
Eight more Fantastic Fashions were produced in 1987.
Blue Lightning
Fancy Gown! Shield hides "Lightning Bolt"!
Includes: Skirt, Collar, Cape & Lightning Bolt Shield.
Colourful Secret
Rainbow dress! Hidden secret sword!
Includes: Skirt, Cape & Sword.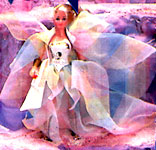 Frosty Fur
Fluffy furry disguise!
Includes: Skirt, Cape, Hood & Boots.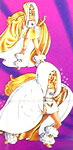 Heart of Gold
Lilac & glitter! Heart gives a signal!
Includes:Chiffon Dress with Colour Changing Heart (pull tab under front of dress that turns dot from green to red).
Hidden Gold
Veiled crown! Golden armour!
Includes: Skirt, Armoured Skirt, Mask with Veil, Sword Cover, Sword, Yellow Chiffon Skirt and Scarf that Hides Gold Armour.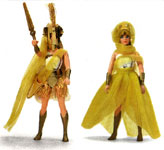 Reflections in Red
Ruby red gown! Shield becomes "Mirror"!
Includes: Chiffon Dress, Ruby Headpiece & Reversible Shield.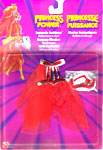 Secret Messenger
Elegant riding gear! and a Hidden treasure map!
Includes: Cape, Skirt, Boots, Treasure Map & Sword.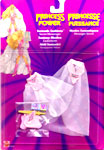 Windy Jumper
Chiffon hat! Veil becomes wind sail!
Includes: Skirt, Chiffon Scarf & Parachute Hat
Publicity
1986
1987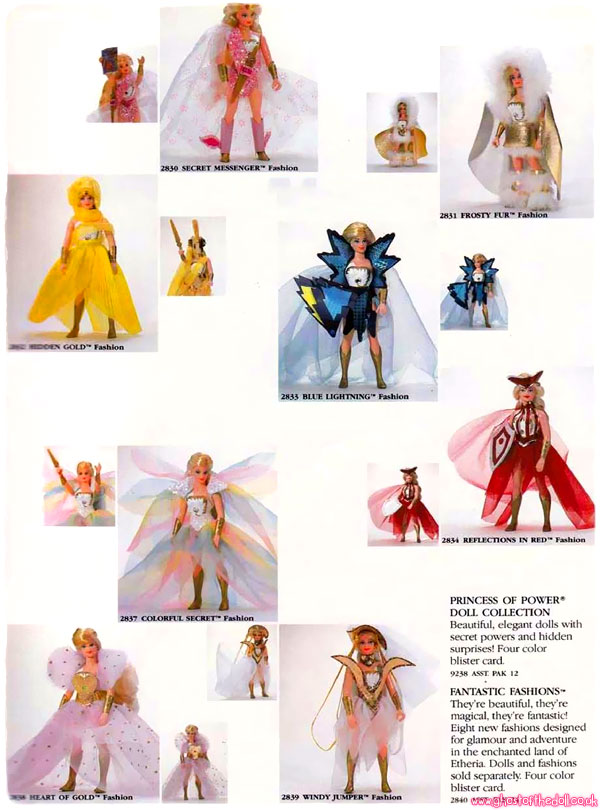 For Sale