Sweet Treats :: Playsets
"In a wonderful place far away, there is a candy coated land where all of the sweets in the world are created. This magical place is called Sweet Land, where everything is sugar and spice and especially nice. Living in this pleasant land are beautiful little girls, delightfully sweet-tempered and good natured as can be. Each Sweet Treat is a special sweet which has come to life to make our world a little sweeter and our hearts more loving to each other."
Sweet Treats were produced by Matchbox in 1989. They were a small series of 10 inch scented dolls with plastic heads and soft bodies.
Images on this page thanks to eBay seller Fifty-Dollhairs!
Playsets
There were two playsets produced. Neither one came with its own doll.
Candy Cottage
"The perfect home for all your Sweet Treat friends, the Candy Cottage magically creates many play areas for hours of fantasy fun."
Treatmaker Trike
"This wonderful trike has everything you'll need to make and serve your own frozen treats. Inside is a real ice cream maker, mixing bowls and spoons, eight recipes and much more!"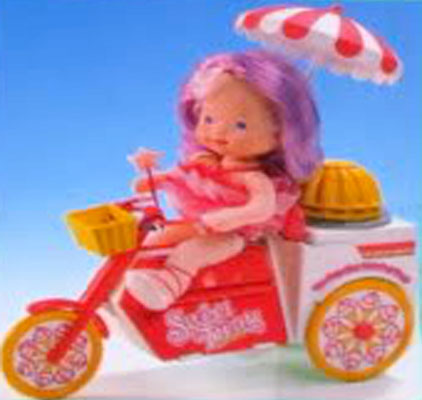 For Sale