Flip 'n Fancy :: Playsets
"Mix 'n match fashions...with a flip. With every twist you create a new look!"
Flip 'n Fancy were produced by Playskool in 1991. They were a series of little double-sided flat looking dolls (measuring about 4 inches high) which could twist in various places to create instant new looks. There was also three playsets produced.
[eBay links are sponsored]
Image on this page thanks to Miracle Creation Designs and eBay seller Baby-Doll-Be-Mine!
Playsets
"Change rooms with a flip!
There were three playsets produced, none came with dolls.
Cook & Clean Playset
"The Cook and Clean playset has a cabinet that flips down to become an ironing board, a stove that folds down to become a washer and dryer, and turning windows with two different scenes."
Bed & Bath Playset
The Bed and Bath playset has a bed which flips down to become a tub, and a window which changes into a mirror."
Van Playset
"Flip 'n Fancy girls start the fun rolling with the free-wheeling van that changes into a snack 'n play area. It's more than a vehicle with a flip it becomes a place for parties, camping and eating. The roof flips down to become an awning, a side window turns into a counter, the back of the van flips down to become an eating area with a ladder. Open windows give children easy access to the inside of the van. Accessories include ice cream tray and table."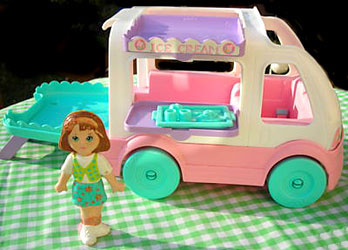 For Sale