"FairyWinkles ... they appear in a twinkle!"
Fairy Winkles were produced by Kenner in 1993-95. They were sets of tiny fairies which came with various playsets to hide and play in.
They were sold in the US, UK, France and Germany.
UK & US: Fairy Winkles
Euro: Folly Magic
Images on this page thanks to Annee and various eBay
sellers including stinkerbellem
, satchel_4
and kmyers9
!
QUICK LINKS> Find Fairy Winkles on eBay.com
or eBay.co.uk
!
Fairy Sweets
There were two sets in the Fairy Sweets Collection, and both had colour variations.
Secret Playland Treat Box
Splashin' Secrets Perfume
The Take Along Secrets Collection, Fairy Sweets Collection and Teapot Twinkle Theatre playset were all part of the second series produced in 1994 in the US (probably 1995 in UK/Europe, but only on a very small scale).
Secret Playland Treat Box
"Help WeeWinkles play in secret playland! Secret Playland Treat Box comes with Peppermint, Butterscotch, Caramel and Taffy WeeWinkles."
There were two colour variations of the Secret Playland Treat Box playset, which came with:
Box
4 WeeWinkles (Peppermint, Butterscotch, Caramel and Taffy)
Green & Purple Version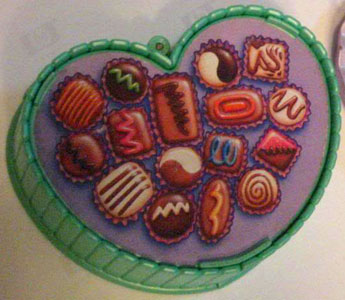 Pink & Cream Version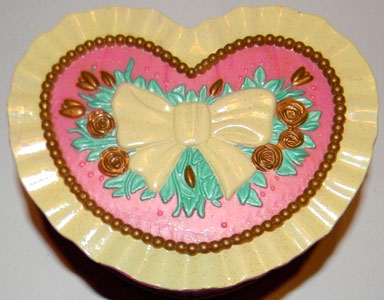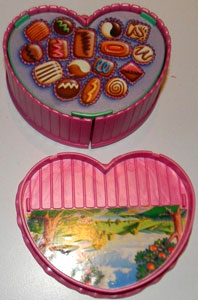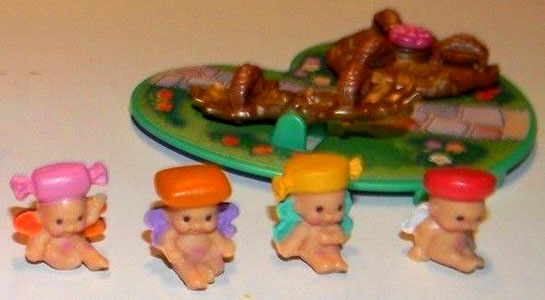 Packaging
| | | |
| --- | --- | --- |
| | [no image] | |
| US Packaging | UK Packaging | Euro Packaging |
Splashin' Secrets Perfume
"What a sweet surprise! Remove the sprayer, lift the top off the base and Bubbles FairyWinkles and Spritz & Sprinkles WeeWinkles are ready for a bath after their game of hide 'n seek with you.
Fill the sprayer by sinking the sprayer head under water then squeezing and releasing. Squeeze bulb to spray Bubbles while giggly Spritz and Sprinkles sit on the tub seat to showery sprinkly fun."
There were two colour variations of the Splashin' Secret Perfume playset (both sold in the US), which came with:
Perfume Bottle
1 FairyWinkles (Bubbles)
2 WeeWinkles (Spritz & Sprinkles)
Purple Version
Blue Version
Packaging
| | |
| --- | --- |
| | |
| US Packaging | US Packaging ~ Colour Variation |
| | |
| --- | --- |
| [no image] | |
| UK Packaging | Euro Packaging |
For Sale
Menu
Comments