"Micro Poseable Dolls!"
Kidgetts were produced by Meritus in 1989/90. They were micro poseable dolls (11/4 inch high), with molded clothes and brushable hair. They also had fashion sets and playsets.
Images of this page thanks to Jana, Betsy and Sara!
QUICK LINKS> Find Kidgetts on eBay.com
or eBay.co.uk
!
Micro Fashion Sets
The Micro Fashion sets included several items of clothing plus its own doll dressed in molded underwear, stand and comb. I don't know how many sets were made, if they had themes or if the dolls had names.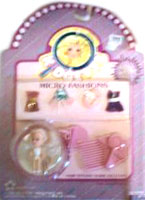 For Sale
Comments