Yum Yums :: Accessories

"So yummy to love!"
Yum Yums were a short lived series produced by Kenner/Hallmark in 1989-91. They were large, colourful plush animals with sweet treats pictured on their bellies, ears and feet. There was also a one-off special cartoon made.
Yum Yums were reissued by a Japanese company around 2011 (licensed by Hallmark) and produced a multitude of accessories. They also introduced several new characters.
Images on this page thank to Anjalee, Etsy sellers NiftyVintageGirl and DeerOnes, and eBay
seller !
QUICK LINKS> Find Yum Yums on eBay.com
, eBay.co.uk
or Amazon.com
!
Accessories
There were a few Yum Yums accessories produced including, a lunchbox & flask, one video and bedding. These are images of what I have found so far.
Lunchbox & Flask
Video
There was one animated Yum Yums cartoon produced called "The Day Things Went Sour".
Iron On Transfers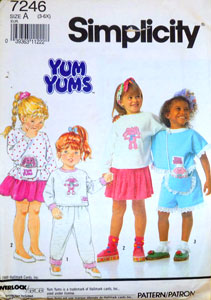 Yum Yums :: Comments