My Little Angel :: Cherubs
Cherubs
"Drink and Wet doll with MAGICAL colour change diaper!"
There were seven Cherub dolls in total; four sold separately (showb below) and three more which came with winged animlas (see Pets). They were about 3 inches high and were drink and wet dolls. Each Cherub came with a headband, colour-change nappie, bottle, bow with arrows, arrow holder, comb, and charm.
Candie, The Helpmate to Cookie
"When the beets, liver and onions are finally gone, there has to be something you look forward to eating.
It's got to be sweet, and it's got to be fun.
When it's all said and done, it's got to be Candie.
She makes sre that for every "good" thing Mom feeds you, there is also something great.
Life just wouldn't be any fun, without a little Candie."
Candie came with a silver mixing bowl with spoon charm, orange comb and nappy, and green and yellow accessories.
Faith, The Helper to Mistie & Luminar
"When you wish upon a star, how do you know your wish will come true?
When the clouds are dark, how do you know there will be a silver lining?
You just have to have Faith.
She gathers heavens magical stardust", you know, the stuff dreams are made of.
Faith then sprinkles it on little sleepy heads so they have Faith."
Faith came with a silver star charm, yellow comb and nappy, and pink, purple accessories. Variations had yellow arrows.
Faith and Hope were also sold wrongly labled as each other as can be seen by the images below.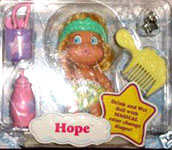 Hope, Angel-In-Training to Angela
"Did you ever wonder how the stork knows which house to deliver the babies too?
Without a plan, you could wind up living with adults who don't even look like you.
Hope has a list of all the babies and the parents they get.
To make sure the stork can find the right address, Hope shoots an arrow on the door of the new parents home.
Life would be just too confusing without Hope."
Hope came with a silver teddy bear charm, purple comb and nappy, and green and pink accessories. Variations had yellow arrows.
Luv, Helper to Joy
"Do you know what makes your heart melt, when a puppy looks up with those big, sad eyes?
Luv is the answer.
She is the Angel-in-training to Joy, the Angel of Love.
She shoots her arrows to see that everyone has someone to love.
Of course, she's not an angel yet.
So, if you see someone that doesn't have anyone to love, well...Luv missed."
Hope came with a silver heart charm, pink comb and nappy, and pink and yellow accessories.
Cherubs & Pets
These are the three Cherubs who came with pets (see Pets for more info).
For Sale