Tea Bunnies :: Hide 'n Peek Babies
"You're invited to a Tea Bunnies Tea Party!"
Tea Bunnies were originally produced by Tomy around 1995. Kidsview took over the production a year or two later, then Uneeda/The Beanstalk Group in 1999 (the toys remained unchanged). They were a series of poseable plastic bunnies about 4 inches high with flowers molded on top of their ears which came with large tea cups that doubles as shops. There were also a few playsets and some story books too.
[eBay links are sponsored]
Images on this page thanks to Miss_Leonie and eBay seller Will's Collectors Den!
Tea Bunny Babies - "Hide 'n Peek Tea Party"
There were six Hide 'n Peek Baby Tea Bunnies. Similar to the adult Tea Bunnies, Baby Tea Bunnies came with a frosted cupcake hat with two holes for their ears, a cupcake bottom which doubled as a playpen. They also each came with a baby sized beaker and cupcake, fabric bonnet and fabric carrier which an adult could hold a baby in.
There was also one special mail order baby bunny (see Playsets).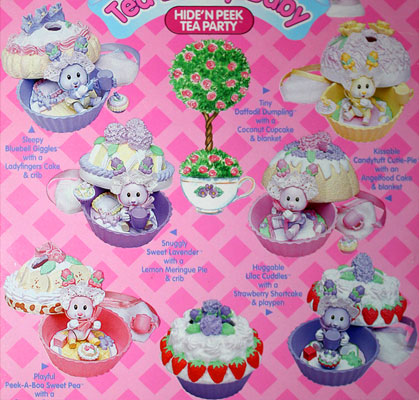 There was also one special mail order baby bunny.
I've found one Tomy packaging, the rest are Kidsview. Tomy used blister packs with the bunnies just on the right (as far as I know), whereas Kidsview have them packaged up both on the right and on the left. Below are a selection covering all the babies.
Bluebell Giggles
and the Ladyfingers Cake and Crib
Candytuft Cutie-Pie
and the Angelfood Cake and Blanket
Daffodil Dumpling
and the Coconut Cupcake and Blanket
Lilac Cuddles
and the Strawberry Shortcake and Playpen
Peek-A-Boo Sweet Pea
and the Banana Cream Pie and Playpen
Sweet Lavender
and the Lemon Meringue Pie and Crib
Cupcake Nursery Crib ~ Mail Order Playset
There was one special mail order playset offered on the Wedding playset set box for the Cupcake Nursery Crib playset, which came a new baby.
Baby Mail Order Playset
Baby Rose Button and the Cupcake Nursery Crib
For Sale