"Squeeze their tummies! Watch their funny noses!"
Nosy Bears were produced by Playskool (and Those Characters from Cleveland) from 1987 to the early 90's. They were plush teddies (plus a few bunnies) with plastic globes on their noses. When their bellies were squeezed various items in their noses would move about from the air pumped in. The smaller Shaker Nosy Bears and Nosy Bunnies had snowglobe type noses which were filled with a liquid. There were also a few accessories made to go along side the series.
Images on this page thanks to Nile Perch and Rachel!
QUICK LINKS> Find Nosy Bears on eBay.com
or eBay.co.uk
!
Accessories
These are the accessories I have found so far. Trademarkia also has mention of of greeting cards and wrapping paper being registered for Nosy Bears, Nosy Kittens and Nosy Puppies, but I've not come across any evidence of their production as yet.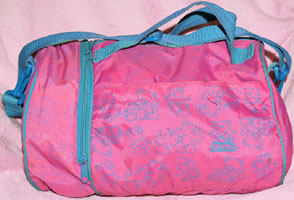 For Sale
Comments