Sea Wees :: TropiGals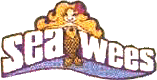 Sea Wees were produced by Kenner from 1979-85. They were a series of 4 inch plastic mermaid dolls with 2 inch babies made for playing with in the bath. Each doll came with a flat sponge with one, two or three wholes in it which the dolls could fit into in order to float.
Images on this page found on eBay
, with thanks to various sellers!
QUICK LINKS> Find Sea Wees on eBay.com
or eBay.co.uk
!
TropiGals [1982]
"Sea Wees Southseas kissin' cousins join this smash hit line. Each TropiGals doll is suntanned and comes with her own baby hula-hula skirt a, special comb, baby, sea pet and floating star shaped lily pad/sponge, and they are as colourful as their names. Float/sponge included has die-cut holes so all can float. Fun in and out of the tub."
There were four sets in the TropiGals series, which included mother, baby and pet. Each one came with a comb, grass skirt and flower sponge. There was also a TropiGals Playset which came with two colour variations the Camille's set and the Flora's set.
| | | | |
| --- | --- | --- | --- |
| | | | |
| Camille, Baby Cascade and Pelly | Flora, Baby Finella and Dubloon | Oceanna, Baby Seabrina and Seaser | Pear, Baby Scale and Gully |
Camille, Baby Cascade
and Pelly
Flora, Baby Finella
and Dubloon
Oceanna, Baby Seabrina
and Seaser
Pear, Baby Scale
and Gully
Comments