Boo Boos Care :: Doll, Playset & Plush
"Busy little Boo Boo with your glowing lights, stay close to my bedside and guard me through the night."
Boo Boos Care was produced by Hornby in 1985-86 and were a series of little pixie dolls based on illustrations by Mabel Lucie Attwell from the 1930's. All toys are very hard to find.
[eBay links are sponsored]
Images on this page thanks to eBay sellers kaziehan, zebbytoys and nesisalez!
Doll, Playset & Plush
As the main purpose of the Boo Boos was to care for newborn babies, a large (and rather plain) 13 inch doll called Baby Twinkles was produced for them to tend to. There was also a playset for both Baby Twinkles and the pixies, and one large plush rabbit.
Baby Twinkles
Baby Twinkles was a rather plain doll with open/close eyes. She came dresses in a nightdress. Below is the front of the packaging with both sides included as the illustration went all the way around.
Crib House Playset
There was one playset produced in 1985 for both Baby Twinkle and the Pixies to use. The Crib House came with one Pixie (Joyful), and pixie sized bunk beads with two leaf shaped felt sheets, table with two chairs, two lantern and two leaf stands. It also came with a sheet and quilt for Twinkles, and a booklet.
The second series back packaging shows a yellow and green Crib House, but I have only ever seen the brown version as shown on the first series packaging.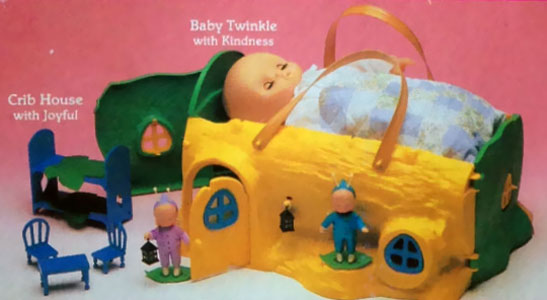 Here are some loose images.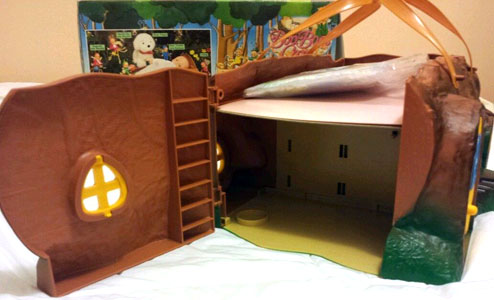 These are the accessories the plaset came with.
This is the packaging.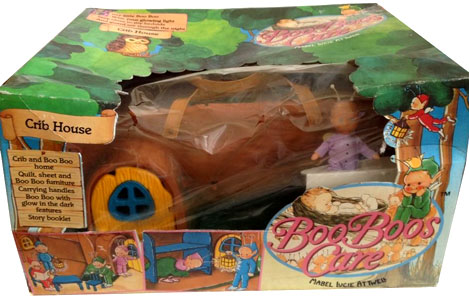 Mops Plush Bunny
There was one plush puppy produced in 1985 called Mops, also based on a Mabel Lucie Attwell character.
For Sale