Chipmunks :: Accessories
Chipmunks, aka Alvin and the Chipmunks, began life in 1958 on a novelty record by Ross Bagdasarian, which was turned into an animated series in 1961-62. The show was then revived in 1983 and ran until 1989 with 65 episodes.These pages focus on the toys produced by Ideal in 1983-85, as well as a few of the early 1990's toys. There were plush, poseable and miniature figures, as well as outfits, playsets and lots of other merchandise. Various toys are still being produced today to go alongside the modern CGI movie releases, but I've not featured them here.
[eBay links are sponsored]
Images on this page thanks to various eBay sellers, including Little Toys for Big Kids!
Accessories
This is just a selection of the other Chipmunks items which were released in the 1980's and 1990's.
Games
I've found one boardgame.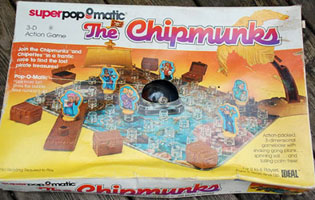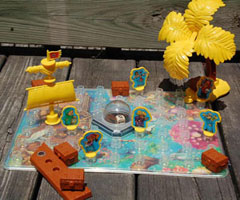 Kitchen Items
Including corckery, glasses, mustard bottle, a hamper and a tin.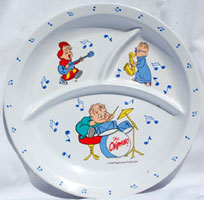 Stationary Items
Including ink stamp and stickers.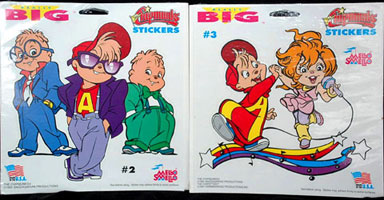 Other Items
These three "play money" notes each featured a different scene from the movie "Chipmunk Adventure" and were promotional items from Burger King restaurants.
The first animation cell is a scene from "The Chipmunk Adventure" feature length film and is signed by creator Ross Bagdasarian Jr. The second cell is from the television series c.1984.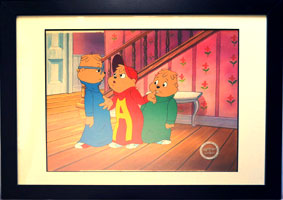 I've also found snowdomes, pin badges, patches, money banks, bubble blowers, telephones, watches and tooth brush stations!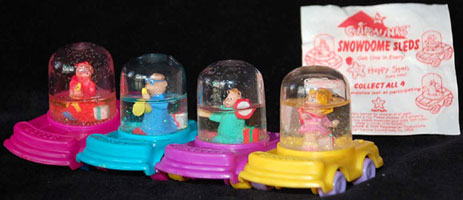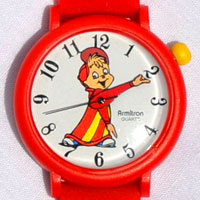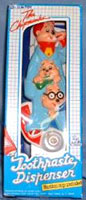 Del Monte Promotional Items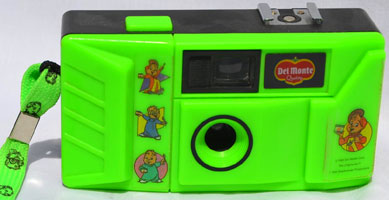 Dairy Queen Fastfood Items
Music
There has been a lot of Chipmunks music released since the late 1950's.
For Sale