Chipmunks :: Figures
Chipmunks, aka Alvin and the Chipmunks, began life in 1958 on a novelty record by Ross Bagdasarian, which was turned into an animated series in 1961-62. The show was then revived in 1983 and ran until 1989 with 65 episodes.These pages focus on the toys produced by Ideal in 1983-85, as well as a few of the early 1990's toys. There were plush, poseable and miniature figures, as well as outfits, playsets and lots of other merchandise. Various toys are still being produced today to go alongside the modern CGI movie releases, but I've not featured them here.
[eBay links are sponsored]
Images on this page thanks to various eBay sellers, including Little Toys for Big Kids!
Figures
There were quite a lot of different figures produced.
Play Pals
Poseable Play Pals
Wind-Ups
Miniatures
Paint 'n Play
Play Pals
"Chipmunks are more fun!"
There were 18 figures produced, plus one special mail offer Alvin figure which may have been sold in shops later on. They were packaged entitled both Play Pals and Play Figures, and the figures measured about 2 1/2 inches high. They were always photographed in groups of three, although some groups didn't really have a common theme. They were made in 1984.
Alvin
Left to right:
Alvin The Champ
Alvin On Stage
Alvin With His Microphone
Angelic Alvin
Urban Chipmunk Alvin
Super Alvin
Simon
Left to right:
Guitar Simon
Baseball Simon
Simon The Magician
Dr. Simon
Theodore
Left to right:
Sticks Theodore
Chef Theodore
Scuba Theodore
Theodore Out For A Spin
Other Figures
The Chipettes, Uncle Harry and Friend Brittany.
Packaging
There was three slightly different blister packs produced, which all 18 figures came in at one time or another.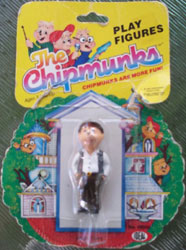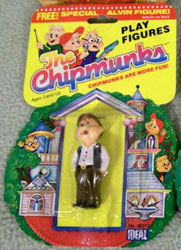 Poseable Play Pals
"With real clothes!"
There were ten Poseable Play Pals produced, all dressed in fabric clothing. They were made in 1984.
Alvin Up For Action
Everyday Simon
Theodore Ready To Play
Alvin In Concert
Simon In Concert
Theodore In Concert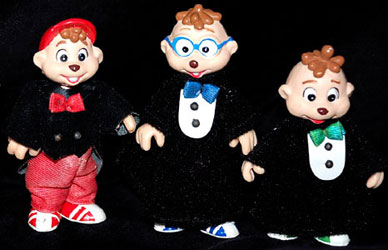 The brown nose with red mouth Chipettes were a factory error (both should have been pink), but not too uncommon to find. They were made in 1984.
Fair Brittany
Sweet Eleanor
Gentle Jeanette
Uncle Harry In His Best
There were six new Poseable Play Pals featured on back packaging, but they were never produced.
From left to right:
Shape Up Simon
Alvin In Training
Think Thin Theodore
Joyful Jeanette
Elegant Eleanor
Beautiful Brittany
Wind-Ups
"Wind them up and they rock 'n roll!"
There were seven Wind-Ups produced which measured about 5 inches high. They were made in 1983-84.
From left to right:
Uncle Harry The Biggest Fan
Dancin' Eleanor
Jeanette On Tambourine
Bandstand Brittany
Alvin On Harmonica
Strummin' Simon
Theodore On Drums
| | | | |
| --- | --- | --- | --- |
| | | | [no image] |
| Alvin On Harmonica | Strummin' Simon | Theodore On Drums | Uncle Harry The Biggest Fan |
| | | |
| --- | --- | --- |
| | | |
| Bandstand Brittany | Dancin' Eleanor | Jeanette On Tambourine |
Miniature Figures
There were various sets of miniature figures produced in the early 1990's.
These six figures were made in Spain in 1992. They are about 2 1/2 inches high and quite hard to find now.
| | | |
| --- | --- | --- |
| | | |
| Brittany & Alvin | Simon & Jeanette | Eleanor & Theodore |
These five figures were made in 1991 for McDonalds.
The Kentucky Fried Chicken restaurant (in Canada only) produced three solid pvc figures in 1990 and three poseable figures with musical instruments in 1991.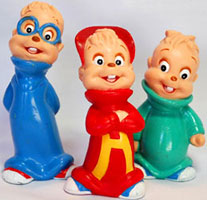 Paint 'n Play Figures
There were seven Paint 'n Play figures produced. They were sold as unpainted plaster figures for you to paint yourself (I assume they came with the paint). They are about 4 1/3 inches high and very hard to find now. They were made in 1983-84.
From left to right:
Uncle Harry
Eleanor Keeps Time
Daydreaming Jeanette
Brittany The Dancer
Rock 'n Roll Alvin
Professor Simon
Theodore's First Love
This plaster figure from 1991 came pre-painted. It is the only one I have found like this.
For Sale