Magic Diaper :: Animals
"Dip your magic baby in ice water: If the diaper turns pink, it's a girl! If the diaper turns blue, it's a boy!"
Magic Diaper Babies and Magic Diaper Pets were produced by Galoob around 1991. They sets of small plastic babies or various animals with water activated colour-change nappies. There were also five playsets produced.
[eBay links are sponsored]
Images on this page thanks to Janelle and Mel Birnkrant's Toys!
Pets
"They're the cutest, most loveable little baby pets - and all come with magic colour changing diapers! Kitties, puppies bear cubs and more wear diapers that turn pink for girls and blue for boys when dipped in cold water."
There were 24 Pets to collect.
Baby Dinos
"The prettiest pastel coloured baby dinosaurs a little girl could ever wish for! These 12 charming stone-age creatures all have special colour change diapers and are the cutest prehistoric playmates since time began!"
There were 12 bay Dinos to collect.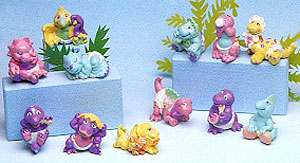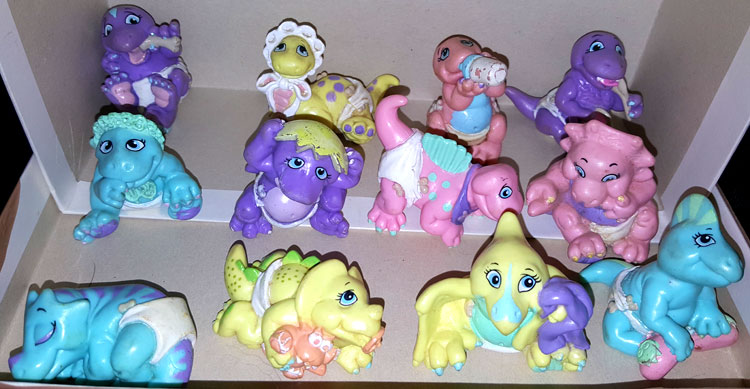 Little Joys
"The smallest, sweetest collection of Mummy and baby pets! Each Little Joys includes a darling Mummy pet and a special delivery bundle of joy! Inside the bundle, there's a surprise - 3,4 or 5 tiny babies with colour changing diapers! Little girls will want to collect all 6 families."
There were 6 Little Joys families to collect.
For Sale