Wuzzles :: Accessories
"Have you snuzzled a Wuzzle today?"
Wuzzles were produced by Disney and Hasbro in 1985. Each character was a mixture of two animals, and all had wings. They started off as an American animated television series and were soon produced as poseable figures and plush toys (similar to Care Bears), books, puzzles and an abundance of other items.
[eBay links are sponsored]
Images on this page are a mixture of mine, or thanks to Jana, Electra, poniesofdooom and various eBay sellers!
Accessories
There were lots of Wuzzle accessories produced, of which I have added in a few.
Other Figures
As expected with such a successful series there were other types of figures produced as well as the poseable versions.
The sinister looking little Wuzzles below are actually cake decoration rather than miniatures. There appear to have been only five made (no Rhinokey) and came with a decorative cake wrapping to go around the edge of the cake (pictured further below).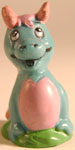 These miniature figures are possibly erasers.
This miniature figure has a small, round base.
I've also found a couple of small, squeaky toy figures.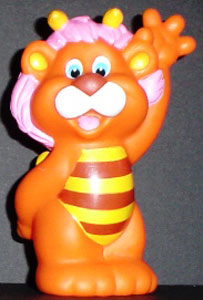 Stickers
These are pictures of the packets the stickers came in:
Stationary Items

Bedroom Items
| | | |
| --- | --- | --- |
| | | |
| Bin | Curtains | Baby Bumper for Cot |
| | |
| --- | --- |
| | |
| Bed Set | Tent |
Shimmering Pictures
Frames
Moneyboxes
Games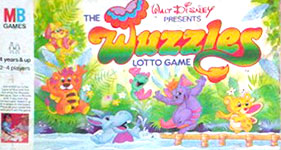 Puzzles
Viewmaster & Slides
| | |
| --- | --- |
| | |
| Colorforms | Card Game |
Party Accessories & Food Related Items
| | | |
| --- | --- | --- |
| | | |
| Table Cloth | Napkins | Cake Decoration Wrapping |
Lunch Box & Flasks
Cup (back & front)
Bags, Purses & Jewellery
| | |
| --- | --- |
| | |
| Wallet | Coin Purse |
| | | |
| --- | --- | --- |
| | | |
| Bag | Watch | Large Pin Badge |
Sewing Patterns
For Sale