Miss Party Surprise :: Big Sisters
"It's a party full of fun surprises!"
Miss Party Surprise were produced by Toy Biz in 1999-2002. They were dolls with large plastic skirts, which when opened turned into a playset full of accessories.
Images on this page thanks to Spiral Toy and various eBay sellers, including Yardsale2000 !
Big Sisters
There were two Big Sisters sets produced. The dolls were larger than the original dolls and they came with lots of accessories.
Big Sisters ~ Costume Party
Costume Party came with a doll named Cathy. I've found both black and white dolls for this playset, which also came with:
Fairy Costume
Dance Platform
Candelabra
Barrette
Decorative Arch
Sheet Music
Piano
Balloon
Mirror
Costume Trunk
Doll Masks
Pet Table & Chairs
Spinning Disco Ball
Ring/Belt
Pet Masks
Comb
Camera with Film
Cloths Stand
More Costumes
Pop Up Balloon
Kitten
Puppy
Popcorn
Pizza
Cake
Hot Dogs
Soda & Glasses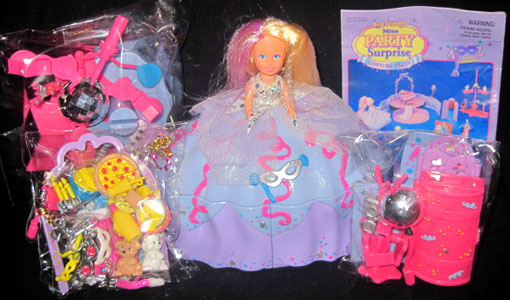 Big Sisters ~ Mermaid Party
Mermaid Party came with a doll named Mya. The playset also came with:
Starfish Charms
Anchor Charms
Sally the Seahorse
Charm Net
Surprise Pearls
Platform
Bubbles the Dolphin
Giant Bubble Wand
Toby the Turtle
Beach
Bubble Pendant
Starfish Charms
Mirror
Shell Couch
Detachable Fin for Mya
Seashell Hair Snaps
Xylophone
Light Up Fountain
Dress
Treasure Chest
Grass Skirt
Bubble Wand Ring
Extra Bubble Wands
Tiara/Ring
For Sale