Miss Party Surprise :: Little Sisters
"It's a party full of fun surprises!"
Miss Party Surprise were produced by Toy Biz in 1999-2002. They were dolls with large plastic skirts, which when opened turned into a playset full of accessories.
[eBay links are sponsored]
Images on this page thanks to Spiral Toy and various eBay sellers, including Doctor Teeth's Vintage Goods!
Little Sisters
There were four Little Sisters Miss Party Surprise sets. The dolls were smaller and the playsets started off as confectionary.
Little Sisters ~ Baking Party
Baking Party came with a doll named Becky. I've found both black and white dolls for this playset, which was vanilla scented. It also came with:
Kitchen with Magic Oven
Cake Hat
Pie Tins, Plates & Tops
Cake Tops & Bottoms
Cupcake/Earrings
Ring
Spoons
Doll Stand
Little Sisters ~ Candy Party
Baking Party came with a doll named Cassie. The playset was cotton candy scented and came with:
Candy Game
Spinning Lollipop Charm
Cotton Candy Charm
Frosting Hat
Chocolate Counter with Game
Charm Earrings
Lollipop Charm
Gumball Machine
Heart Pendant with Game
Doll Stand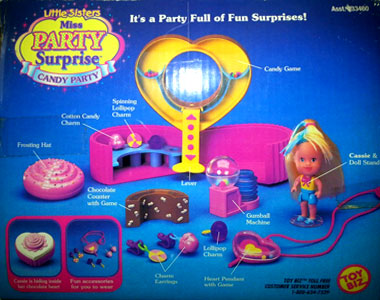 Little Sisters ~ Garden Party
Baking Party came with a doll named Rosie. The playset was floral scented and came with:
Fence/Bracelet
Wheel Barrel
Flower Hat
Birdbath
Flowers and Flower Pots
Growing Flower Garden
Watering Can
Butterfly Hair Clips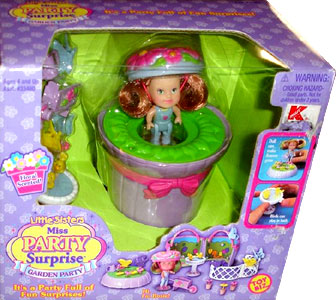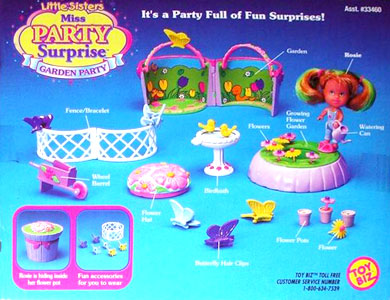 Little Sisters ~ Gift Party
Gift Party came with a doll named Gabby. The playset was peppermint scented and came with:
Party Dressing Room
Party Outfit
Party Hat
Gift Box for Party Outfit
Table
Gift with Emboss Action
Gift with Ink Stamper
Stamp Paper
Bobby Pin Bow
Cake Sticker Dispenser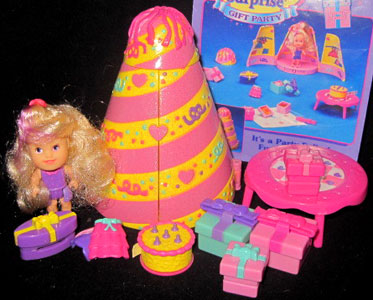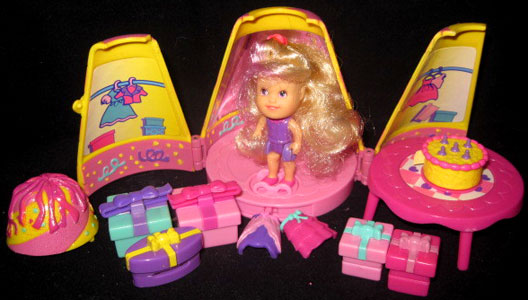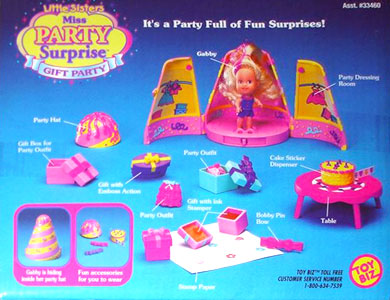 For Sale