Miss Party Surprise :: Playsets
"It's a party full of fun surprises!"
Miss Party Surprise were produced by Toy Biz in 1999-2002. They were dolls with large plastic skirts, which when opened turned into a playset full of accessories.
[eBay links are sponsored]
Images on this page thanks to Knot a Toy, Le Chat Noir Boutique and eBay sellers jesusfishgang and bonniebatch !
Playsets
There was at least one "deluxe" playset produced.
Pony Party
Pony Party came with two dolls, named Emily and Billy. The set started out as a carrousel rather than a dress. This playset came with:
Clip-On Flags
Fences
Jump
Trixie the Pony
Dusty the Pony
Cowboy Hat
Riding Hat
Brush
Meadow
Brick Fence
Winner's Cup
Blue Ribbon Earrings
Rose Wreath/Pendant
Winner's Stand
Flag/Stamper
Basket of Carrots
Basket of Feed
Blanket
Comb Ribbons
Saddle Stand
Cowgirl Outfit
Clothes Rack
Corral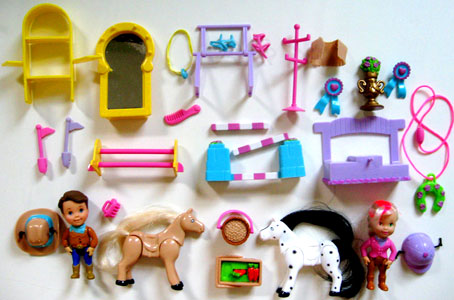 For Sale