My Magic Kissing Dragon :: Dragons
"Squeeze me and I give magical kisses!"
My Magic Kissing Dragon were produced by Galoob in 1994. They were a short lived series of plastic dragons which when squeezed squirted out a scented mist from their mouths. Each dragon had a different colour-change symbol on their belly and a matching colour-change symbol on their bowl accessory. There were also five playsets produced.
[eBay links are sponsored]
Images on this page thanks to Miss_Leonie, Catherine, Pablo, and eBay seller zaktenenzap!
Figures
"In a land far away where wishes come true, you'll find loveable dragons that drink dewdrops from beautiful flowers and then spray a mist of magical scented kisses. Let the dragon drink the potion from her special bowl. Then give her a squeezable hug and she'll give you a scented kiss that makes magical things happen!"
There were six different dragons produced. Each dragon had a different symbol on their belly and a matching symbol on their flower bowl which changed colour when cold. The dragons "drank" from their bowls, filled with water and perfume, then blew perfumed "kisses" when squeezed. They are marked 1993 L.G.T.I underneath.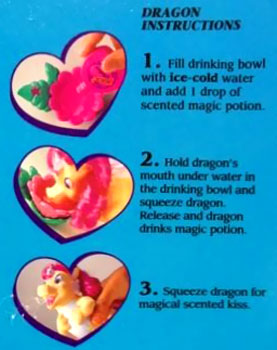 Bubbles "She loves to be funny and gives bubblegum kisses." (sunburst symbol)
Cheery "She loves surprises and gives grape kisses." (butterfly symbol)
Lovey "She loves to be shy and gives orange kisses." (star symbol)
Smoocher "She loves to be nice and gives strawberry kisses." (heart symbol)
Tickles "She loves laughing and gives cherry kisses." (musical note symbol)
Twinkle Toes "She loves dancing and gives tutti frutti kisses." (flower symbol)
| | |
| --- | --- |
| | |
| Bubbles | Cheery |
| | |
| --- | --- |
| | |
| Lovey | Smoocher |
| | |
| --- | --- |
| | |
| Tickles | Twinkle Toes |
"Sweet squeezable dragons that give a magic scented kiss!"
This image and text is from the 1994 Galoob Catalogue.
6 different dragons - each sprays a magic scented kiss when you squeeze it.
Includes scented potion and dragon drinking bowl.
Pretty potion bottle you can wear as a necklace.
Dragon and drinking bowl have matching colour-change symbols.
Symbols change colour with magic dragon kiss or water.
Potion scents include bubble gum, strawberry, tutti-frutti, orange blossom, cherry, grape.
Pretty hair to brush and style with dragon brush.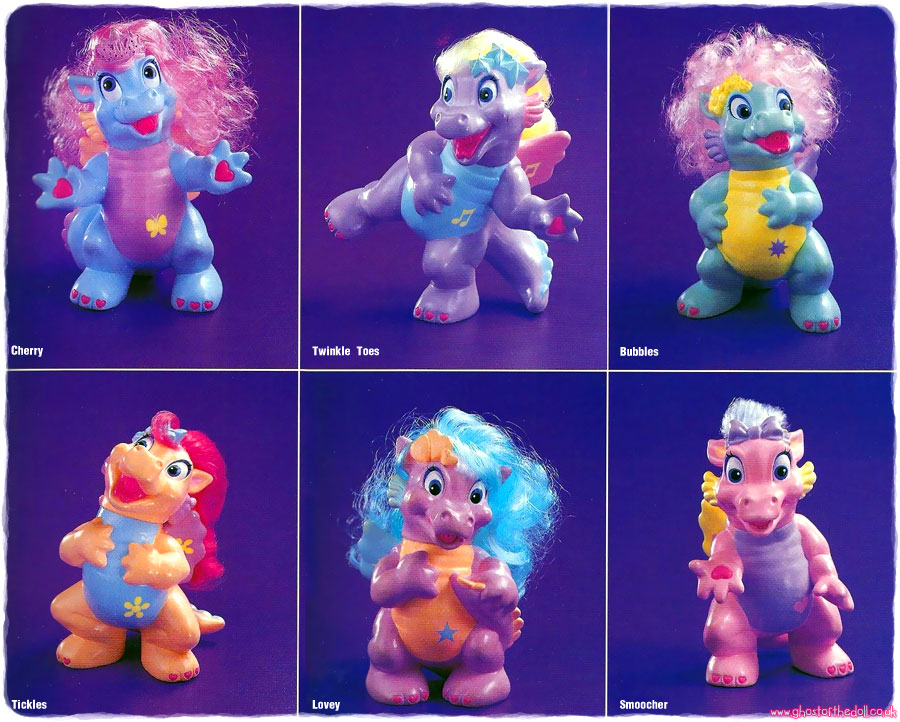 Accessories
"My tummy and bowl image change colour with a magic dragon's kiss!"
The dragon's belly symbol matched they symbol on the leaf of their flower bowls. Their pink brushes had a flower mould on the back.
"Each Dragon comes with a bottle of scented potion you can wear as a necklace, Dragon drinking bowl, swirls of pretty hair and brush."
This image is from the 1994 Galoob Catalogue.
For Sale