Nerfuls :: Accessories
"Mix 'em, match 'em, roll 'em , change 'em, pose 'em, bounce 'em. They're a ball to be around!"
Nerfuls were produced by Parker Brothers in USA, Kenner in the UK and Cromy in Argentina from 1985-87. They consisted of 3-pieces - hat/hair, ball-face and plastic body. All the parts were interchangeable and the ball-face itself could bounce.
[eBay links are sponsored]
Images on this page found on eBay, with thanks to various sellers!
Accessories
There were a few Nerfuls accessories produced.
Puzzles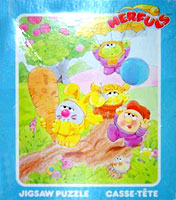 Books & Music




Books - Follow the adventures of the Nerfuls characters with these colourful illustrated children's books. [unreleased item]
Storybook & Cassette - Listen and read along as the Nerfuls take you on fun-filled journeys with entertaining cassette and storybook combinations. [unreleased item]
Music LP - Dance & sing along with the nerfuls as they come to life on exciting albums and cassettes featuring original songs and music!
Activities Items
For Sale