Kitty Care
Puppy Care & Kitty Care were produced by Hornby in 1985. They were a series of plastic dogs and cats with twistable heads and brushable hair. There were lots of different poses and colours, and each one came with a comb, collar and an accessory which they could hold in their mouths via a small hole. There was also several sets of fashion for them.
[eBay links are sponsored]
All images on this page thanks to Petra!
Kitty Care
There were twelve kitties produced. Each one came with a fish, mouse or rattle which they could hold in their mouths, two or three ribbons and a comb. There were four poses.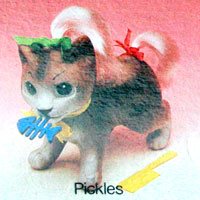 For Sale