Sweet Treats :: Dolls
"In a wonderful place far away, there is a candy coated land where all of the sweets in the world are created. This magical place is called Sweet Land, where everything is sugar and spice and especially nice. Living in this pleasant land are beautiful little girls, delightfully sweet-tempered and good natured as can be. Each Sweet Treat is a special sweet which has come to life to make our world a little sweeter and our hearts more loving to each other."
Sweet Treats were produced by Matchbox in 1989. They were a small series of 10 inch scented dolls with plastic heads and soft bodies.
[eBay links are sponsored]
Images on this page thanks to Graciela R and various eBay sellers, including flamingomego, ahopthroughtime, crazyzen3, vintage-wotnots22, retrostockshop, usjenni.t3wsa84, Fifty-Dollhairs, Dennis Collectibles Dolls And Toys and maryw69!
Dolls
"Looks and smells like you favourite treat!"
There were eight dolls produced. They each came fully dressed with one item attached to their hand and a brush. Inside the packaging was a recipe related to each dolls theme.
Banana Split
"Banana Split is the happiest one of the Sweet Treats. She loves working out and doing aerobics to dance music."
Banana Split came with a skipping rope.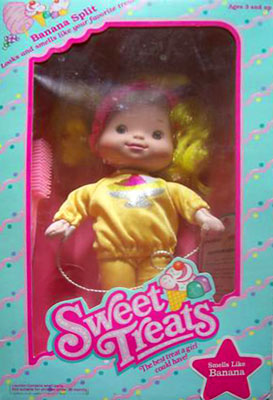 Blueberry Cheesecake
"Blueberry Cheesecake is a very friendly and cute Sweet Treat. Her favourite thing to do is talk on the phone to her many friends all over Sweet Land."
Blueberry Cheesecake came with a telephone (just the handheld part).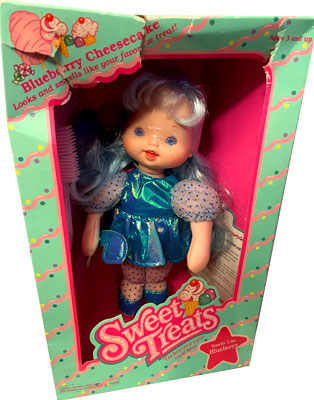 I've also found a manufacturing mix up of what appears to be Blueberry Cheesecake's head on Sugar Plum Pudding's body (in SPP's packaging).
Cinnamon
Cinnamon came with a fabric guitar.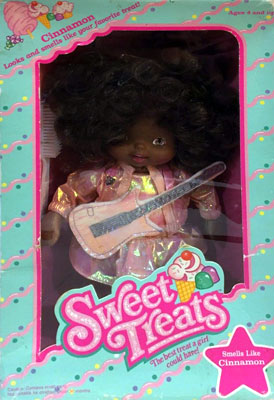 Cocoa Pop
"Cocoa Pop has a lively imagination. She loves to sing and give concerts for everyone in Sweet land."
Cocoa Pop came with a lolly pop that also looked a bit like a microphone.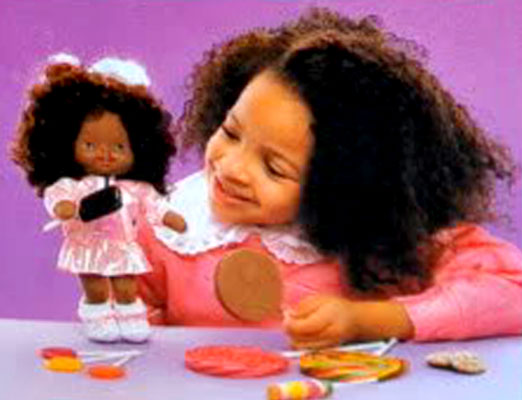 Coconut Cupcake
"Coconut Cupcake is the funniest Sweet Treat. She knows a million jokes and cam make anybody laugh which is why she has so many friends."
Coconut Cupcake came with a gift box.
Cotton Candy
"Cotton Candy is the most generous and popular of all the Sweet Treats. She always thinks of others and is very caring."
Cotton Candy came with a stick of candyfloss.
Raspberry Sherbet
"Raspberry Sherbet is a very charming Sweet Treat. She always knows the right thing to do and say."
Raspberry Sherbet came with a hand mirror.
Sugar Plum Pudding
"Sugar Plum Pudding is the most helpful Sweet Treat. She's a devoted ballerina and loves to dance."
Sugar Plum Pudding came with a wand.
For Sale