Baby Scents
"Candy scented poseable baby dolls."
Baby Scents were produced by Toys 'n Things (aka Toy Things) in early 1990's.
The company released several sets of scented (and non-scented) dolls from 1991 to 1995, when Strawberry Shortcake was re-issued, and then again in 2000. In fact, the dolls were so similar to SSC that they often get mistaken for them now.
There are also a few as yet unknown TNT dolls, maybe you can help identify them?
[eBay links are sponsored]
Image on this eBaysellers shop4atoy, galaxydollsandtoys, marinahdeals, and purplemagicdog!
Baby Scents
There were five Baby Scents dolls. They had colourful short hair and each one came with a playset.
Push Chair
High Chair
Rocking Horse
Bath Tub
Cot
The dolls appear to have been either randomly places with the playsets, or each doll came with every playset option. The purple haired doll wasn't in the back packaging image.
The pink and yellow haired dolls below are not dressed correctly.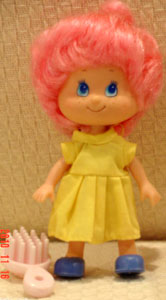 For Sale