Unknown TNT Scented Dolls
Toys 'n Things (aka Toy Things) released several sets of scented (and non-scented) dolls from 1991 to 1995, when Strawberry Shortcake was re-issued, and then again in 2000. In fact, the dolls were so similar to SSC that they often get mistaken for them now.
There are also a few as yet unknown TNT dolls, maybe you can help identify them?
[eBay links are sponsored]
Image on this page thanks to Jana, Lori, Teresa, Zuse, vintagetoy, frenchfantasy and eBay sellers Two-Little-Tinkers, Shooting-star87-SHOP, jamlin12, and jimmysgirls2008!
Unknown TNT Scented Dolls
There were three styles of faced used by TNT, made with the same body mould. Blooming Babies and Sweet Scents dolls were produced with face style 1. There was also a later Sweet Scents doll with face style 3, like the Dream Girl dolls.
| | | |
| --- | --- | --- |
| | | |
| Face Style 1 | Face Style 2 | Face Style 3 |
Face Style 1
This doll has face style 1. Where does she fit in? Is she another Story Book Treasure doll?
Face Style 2
The doll below has long ringletted hair and face style 2. She looks to be wearring evening wear. Could she be part of the Dream Girl "Glamour Curlz" line?
Where does this doll fit in? She has face style 2, so most likely a Dream Girl doll of some sort. Doll 2 may be dressed incorrectly, so they may possible be the same doll.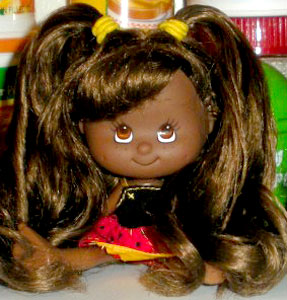 Face Style 3
So far, only the Dream Girl "Sweet Scents" line used this face style, but the clothes are quite different.
For Sale