Blinkins :: Playsets
"Let their love light shine!"
Blinkins were produced by LJN Toys in 1985-86. They were fairy-glowbug creatures who lived in Blinkin Land who had small wings which lit up and glowed in rainbow colours when their bodies were squeezed. They each came with a pet or accessory and a butterfly comb.
Along with the small dolls Blinkins were large plush versions, playsets, accessories, books and videos.
Images on this page found on eBay, with thanks to various sellers!
Playsets
There were two Blinkins playsets produced.
Lady Buggy - "When you push me along, my wings flap fast and my seats bounce up and down."
Twilight Treehouse - "Blinkins magical home, with cozy rooms, furniture, moveable vanity and more!"
Packaging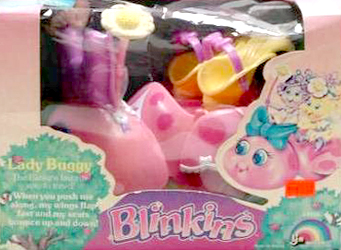 Lady Buggy
For Sale