Dolly Surprise :: DOlls
"Her ponytail grows right before your eyes!"
Dolly Surprise were produced by Playskool / Hasbro in 1987-1990. They were a line of 10 inch dolls with hair growing abilities. When her right arm was raised up her ponytail would "magically" grow by over 3 inches. Her left arm, when raised up and down, would wind the ponytail back in to her head. There was also a smaller line of 6.5 inch dolls, a couple of colour-change dolls, a larger baby doll and toddler doll as well as a few fashions for the original 10 inch dolls.
[eBay links are sponsored]
Images on this page thanks to pixietulip Crissy and Beth, Fran's House of Dolls and Toys, Thrift Store Dolls, Fransfunkyfinds, BitsyBaublesDesigns, Cixi's Collectibles and eBay sellers Dennis Collectibles Dolls And Toys, gotantiques, julsdollsa, auntjemima1, bloomindolls, radams854966da, silkytoto23, de34ev, moretv4us, The Bedbug Boutique, himum, bidonmenow2win, gindoll78, Audy's Dolls and Toys and MJ's Toys Collectibles and More!
Dolls
"Move her arm to change her hair. From short 'n sweet to long 'n lovely!"
According to the later packaging there were thirty dolls produced in total, of which I have identified twenty nine. These four rhyming named dolls were the first to be produced.
| | |
| --- | --- |
| | |
| Holly Surprise | Lolly Surprise |
| | |
| --- | --- |
| | |
| Molly Surprise | Polly Surprise |
Twenty four dolls were listed on a leaflet included with the later dolls, but the dolls above were not included.
These ten were shown together on back packaging:
Best Wishes
Button Belle
Jungle Safarie
One-Two Workout
Pillow Talk
Prairie Girl
Prima Ballerina (white version)
Rain Dancer (black version)
Slumber Time
Tiny Dancer
And these ten were shown together on back packaging:
Farmer Girl
Fiesta Fun
Go Team Go
Little Jogger
Little Flower
Prima Ballerina (black version)
Sweet Dreams
Tappy Toes
Tea For Two
Tuck Me In
These six may have also been shown together on back packaging but I have yet to find an image:
Cat's Meow
Little Dancer
Little Glider
Prom Princess
Rain Dancer (white version)
Sweet Scotties
[no image]
Best Wishes
Button Belle
Cat's Meow
| | | |
| --- | --- | --- |
| | | |
| Go Team Go | Jungle Safari | Little Dancer |
Little Flower
Little Glider
| | | |
| --- | --- | --- |
| | | |
| Little Jogger | One-Two-Workout | Pillow Talk |
Prairie Girl
Prom Princess
Prima Ballerina
Sweet Dreams
Sweet Scotties
Tappy Toes
| | | |
| --- | --- | --- |
| | | |
| Tea For Two | Tiny Dancer | Tuck Me In |
Wedding Bouquet wasn't featured on the list of twenty four dolls above. She had a pink streak in her hair.
Wedding Bouquet
Who are these dolls?
Dolly Sunny Surprise
"Her hair grows and changes "
There were two Dolly Sunny Surprise dolls produced which had tri-coloured ponytails and colour change hair.
| | |
| --- | --- |
| | |
| Splashy Surprise | Summer Surprise |
Little Miss Dolly Surprise
"Hair really grows!"
Little Miss Dolly Surprise dolls were slightly smaller than the original dolls, measuring 6.5 inches high. They came fully dressed and also included a comb and storybook.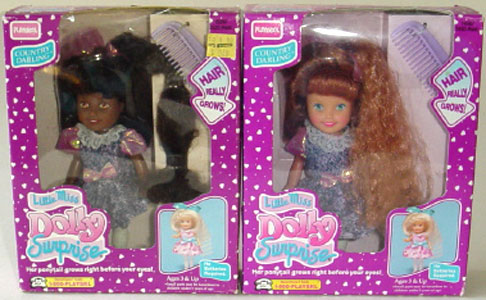 Country Darling
| | |
| --- | --- |
| | |
| Free Wheelin' | Make A Wish |
Who are these dolls?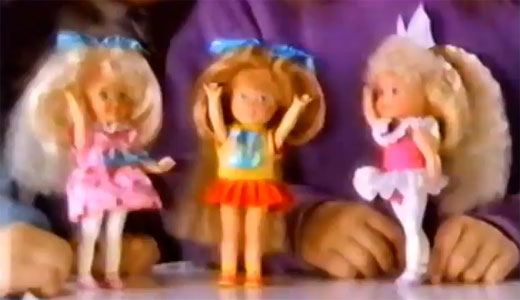 Baby Dolly Surprise
"Baby Dolly has a surprise for you! Raise her right arm, and her ponytail really grows! Then, move her left arm to make her hair shorter! "
There was one Baby Dolly Surprise doll. She was 14 inches tall and produced in both black and white.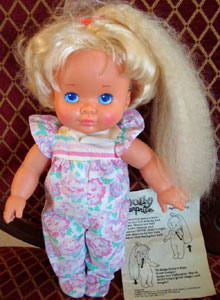 Head-to-Toe Dolly Surprise
"Hair really grows!"
I have found one Head-to-Toe Dolly Surprise doll, dated 1989. I assume she was called "Head-to-Toe" because of the full length of her ponytail. She looks about 14 inches tall.
For Sale