Fairy Winkles :: Other Playsets
"FairyWinkles ... they appear in a twinkle!"
Fairy Winkles were produced by Kenner in 1993-95. They were sets of tiny fairies which came with various playsets to hide and play in.
They were sold in the US, UK, France and Germany.
UK & US: Fairy Winkles
Euro: Folly Magic
[eBay links are sponsored]
Images on this page thanks to KNot a TOY and eBay sellers psychgirl03 and i_lovemychihuahua!
Other Playsets
There were two large playsets produced which were not part of any collections. One set had an alternative name in the UK and the other set may not have been sold here (the teapot).
Secret Treasure Jewelry Box / Fairy Hideaway Home
Teapot Twinkle Theatre
The jewellery box was produced in series 1 and continued production into series 2 along with the teapot.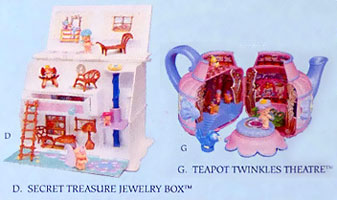 Secret Treasure Jewelry Box
"The FairyWinkles dolls watch over your favourite treasures in lots of drawers that really work! Open the beautiful jewelry chest and discover a fun-filled house for all your friends! Comes with pretty Pearl & Sapphire FairyWinkles and Amethyst & Topaz WeeWinkles."
The Secret Treasure Jewelry Box playset came with:
Jewellery Box
6 Peices of Furniture
1 Ladder
Sticker Sheet
1 FairyWinkles (Pearl and Sapphire)
1 WeeWinkles (Amethyst and Topaz)
According to UK back packaging, this set was called Fairy Hideaway Home but I have as yet to find this set packaged up for the UK.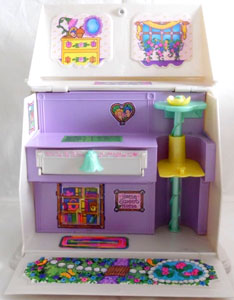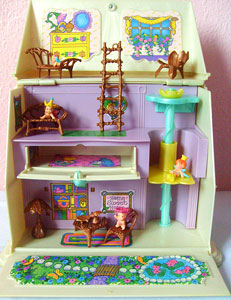 Packaging
| | | |
| --- | --- | --- |
| | [no image] | |
| US Packaging | UK Packaging | Euro Packaging |
Teapot Twinkle Theatre :: Series 2
"Teapot Twinkle Theatre with Star FairyWinkles and Pops, Toots, Twitter & Twang WeeWinkles! Pops conducts the musicians while Star dances and steals the show!"
The Teapot Twinkle Theatre playset came with:
Teapot
Bluebird Whistle
"Juice" Bar
Harp
Bench
Sticker Sheet
1 FairyWinkles (Star)
1 WeeWinkles (Pops, Toots, Twitter & Twang)
I believe the Take Along Secrets Collection, Fairy Sweets Collection and Teapot Twinkle Theatre playset were all part of the second series produced in 1994 in the US (probably 1995 in UK/Europe, but only on a very small scale).
Packaging
| | | |
| --- | --- | --- |
| | [no image] | [no image] |
| US Packaging | UK Packaging | Euro Packaging |
For Sale