Furby :: Friends
"The more you play with me, the more I do!"
Furby were produced by Tiger Electronics from 1998 to 2002. They were a line of furry, interactive electronic creatures which looked a bit like owls and were the "must-have toy" of Christmas 1998.
Hasbro re-designed the line in 2005-2007 but without any great success, and then again in 2012.
[eBay links are sponsored]
Images on this page thanks to eBay sellers Beulah's Beauties and Bazaar, blueatkins, toysfuru, steele3770jenn, timtheall, nessundorma, Daves Cabinet Of Curiosities, WORLDWIDE TREASURES by Diane, RED DRAGON TRESURE, rnnaz, Beaniejabber2 Toys and More, lazerdolphin , countrytreazures13, Marco's Toy Chest and TheHop11 Cool Finds!
Friends of Furby
Furby had a few friends produced which could interact in a similar way to Furby as well as with each other.
Tiger also produced a Yoda figure, but it wasn't intended to be related to Furby in any way. However, it did use the same technology and was even featured on Tiger's Furby website as an upcoming toy, so I've added it in for completeness.
Shelby [2001]
"Shelby, Furby's Friend! Furby, the hottest toy in history, gets its first friend! Shelby, the talking, animatronic clam packed with tons of attitude. Shelby has 70% more vocabulary and 50% more memory than Furby. It also speaks three times the phrases, has more sensory input and double the built-in features that can be unlocked through play.
The smart-aleck clam with moving eyes, mouth, antennae and shell also has twice Furby's mechanical resolution and more than double the animatronic movement. Shelby speaks English, Furbish and its own special language, Shelbish. Not only does it come with a vocabulary of 275 words and over 1000 phrases, it can also communicate with other Shelbys, Furbys, Furby Babies, Gizmo and ET.
Like Furby, Shelby responds to its surroundings through light, sound, and touch, and develops the more children play with it. Shelby lives in a shell, so it will clam up if it's scared or sleeping! It also plays games such as Ask Shelby and Hide and Seek, tells knock-knock jokes and even exercises."
Shelby ~ Series 1
There were twelve Shelby's produced in 2001, six colours in the first series and further six colours in the second. By 2002 Furby sales had dropped considerably and both Furby and Shelby were discontinued. They were about 5 inches high.
| | |
| --- | --- |
| | |
| Black | Metallic Blue |
| | |
| --- | --- |
| | |
| Metallic Green | Orange |
| | |
| --- | --- |
| | |
| Purple | Yellow |
Shelby ~ Series 2
A further six colours were added in the second series, which are harder to find on the secondhand market than the first series.
| | |
| --- | --- |
| | |
| Coral | Lady Bug |
| | |
| --- | --- |
| | |
| Mint Tulip | Orchid |
| | |
| --- | --- |
| | |
| Sky | Toad |
Gremlins Interactive Gizmo [1999]
"Friend of Furby. Features the actual voice of Gizmo! Fully animated with 160 word vocabulary. I can talk to Furby and Furby Babies. I can play games and learn tricks."
Gizmo measured 9" high.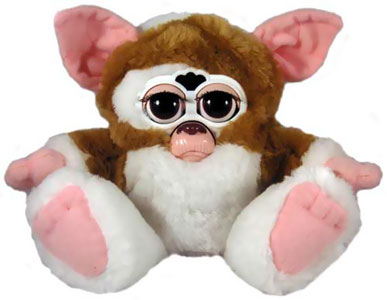 Interactive E.T. [2000]
"E.T. invites everyone to share the thrill of his magic touch. It's more than a movie - it's an experience you'll never forget. Just like the real E.T., this figure's heart and finger really glow. E.T. has a vocabulary of over 400 words! He has animated eyes and mouth, telescoping neck, and poseable arms! He can communicate with Furby, Furby Babies, Gizmo, Shelby and another E.T. Teach E.T. how to speak, behave and play!
E.T. measured 9" high and came with a removeable red top.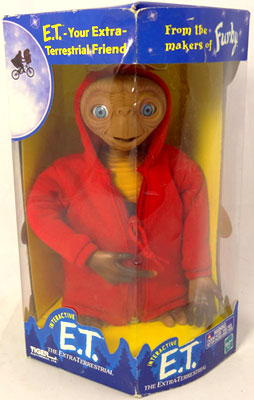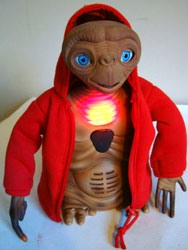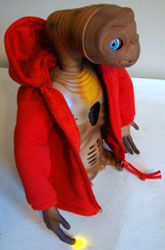 Star Wars Interactive Yoda [2000]
"Yoda speaks with a vocabluary of over 450 words. Fully interactive Yoda is your guide to the ways of the force. Watch as Yoda's ears, eyes and mouth move each time he talks. Hone your Light Sabre skills with four levels of interactive training. Yoda incourages your progress with speach and action. Yoda helps you learn disciplin to be a Jedi!"
Yoda wasn't intended to be related to Furby in any way, but did use the same technology and was featured on Tiger's Furby website as an upcoming toy so I've added him in for completeness.
Yoda came with a Light Sabre for children to use.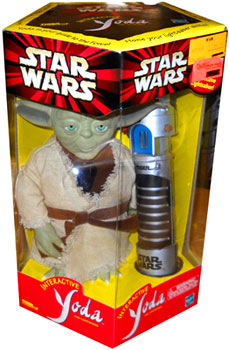 For Sale