Happy-ness :: Playsets
"Beneath the mysterious waters of Loch Ness, there's a magical place where a family of fun loving, musical sea creatures live. It's a secret world where sea serpents and people work together and miracles happen everyday. Come play with the Nessies and visit their world where dreams really do come true. All you have to do is believe!"
Happy-ness were produced by Galoob in 1995. They were a short lived series of colourful figures based on characters from an animation of the same name about the Lock Ness monster.
Images on this page thanks to Marie's Myth-ing-toys (archived site), Topless Robot, Age and eBay seller myth-ing-toys!
Playsets
There were three cameo locket playsets produced and one similar, larger playset produced.
Cameo Lockets
The lockets came with two miniature figures and the larger playset came with six miniatures. I don't know if the lockets had their own names, or which characters came with each set.
Cameo 1
Cameo 2
Cameo 3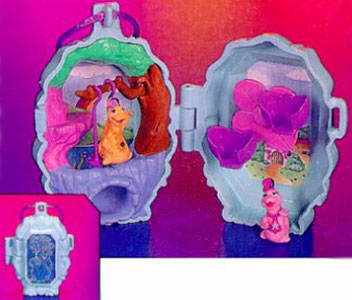 Secret Water Wonderland
Secret Water Wonderland came with the four different miniatures produced for the lockets, plus two human characters from the cartoon (Hannah and Sir Prize).
| | | | | | |
| --- | --- | --- | --- | --- | --- |
| | | | | | |
| Bright Ness | Happy Ness | Kind Ness | Silly Ness | Sir Prize | Hannah |
For Sale