Kidgetts :: Dolls
"Micro Poseable Dolls!"
Kidgetts were produced by Meritus in 1989/90. They were micro poseable dolls (11/4 inch high), with molded clothes and brushable hair. They also had fashion sets and playsets.
[eBay links are sponsored]
Images on this page thanks to Jana and Raevyn!
Dolls
"Kidgetts ..... Just like you and your friends, yet very special. They are micro-sized which is exceptionally unique! Kidgetts are very cool teenagers. They are terrific athletes smart students and hard workers. Kidgetts think their families are super special and their friends are especially great! Their exquisite micro detail is so clear that it is fun to examine the dolls under a magnifying glass. Today's kids are tomorrow's leaders. Kidgetts like you, want the world to be a better place to live so they try very hard to do the absolute best they can in everything they do. They are special kids just like you! There are many, many Kidgetts and it would be a blast to collect them all!"
There were 24 dolls in total, each one with it's own theme. They were sold individually and in pairs.
Each one came with:
Individual Biography Card
Storybook
Doll Clip-on stand
Comb
Hair styling guide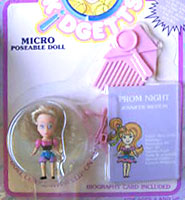 Please let me know if I've ID-ed any of these dolls wrong, you know the missing occupations or have images of the missing dolls!
Diana Hill
Cyclist
Patty Jones
Swimmer
Muffy Anderson
Prep Student
Beth Johnson
Tennis Player
Joanie Young
Student (Jeans)

Sue Douglas
Candy Striper
Cindy Thomas
Gymnast
Linda Reed
Pilot Trainee
Donna Reilly
Aerobic Workout
Trisha Ritter
Rollerskater
Jennifer Weston
Prom Night
Chrissy Lake
Skier
Mary Cook
Summer Casual
Sandy Wilson
?
Angie Smith
?
Michele Brown
Cowgirl
Samantha Madison
Beauty Queen
Erica Nelson
Horseback Rider
Sherry Martin
Pajamas
Sharon Russell
Slacks Set
Missy Carter
Bridesmaid
April Graham
Drum Majorette
Pamela Mills
Cheerleader
Wendy Miller
Sailor
Pendant Dolls
Pendant dolls were not poseable and could fit inside a pendant which could be worn. I have found three so far and are all made with the same moulded dress, painted in different colours.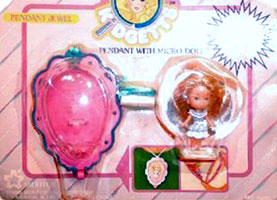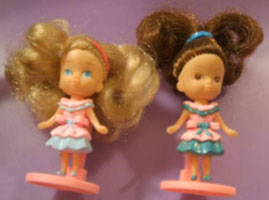 For Sale