Sugar Planet :: Dolls
"In a place far-off where wishes come true, you'll find some sweet dreamers like me and you; It's a world Called Sugar Planet, the sweetest around, where Sugar Girls and surprises are sure to be found. "
Sugar Planet were produced by MGA in 2002-03. There were sets of 3 inch dolls who came with a small playsets, a pet and a few small accessories. MGA were behind the Bratz series of dolls, which these are quite similar to facially.
[eBay links are sponsored]
Images on this page thanks to eBay seller daves-in-toyland, dwatson5, COLLEZIONANDO ROMA, gottahavecollectables and Amazon and MGA Entertainment!
Sweet Space Playsets
"It's a world filled with sweet surprises that you can now take anywhere."
Hidden hairbrush inside.
Secret compartments reveal make up for you.
Move your Sugar Girl magically.
Make-up and mirror for you.
Collectible charms & chain transforms into bracelet for you.
Includes removable fashion skirt & other accessories.
There were three Sweet Space playsets produced in 2002.
Frozen Candy
Snowee came with Jax.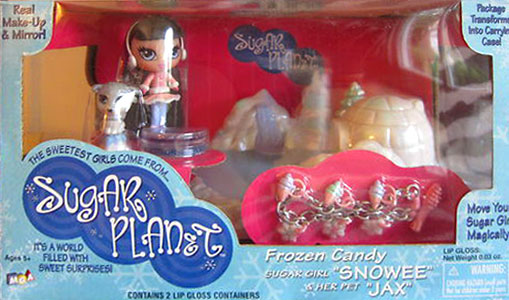 MMMermaid
Sianna came with Zoe.
Tropical Punch
Leilani came with Tuku.
Purse Playsets
Each purse opened up to reveal a playset inside. Once open, the base lifted up to reveal a mirror and secret compartment with a small container of glittery makeup and a fun charm bracelet inside.
There were three Purse playsets produced in 2002.
Frozen Candy
Icee came with Kundra.
MMMermaid
Syrene came with Pooki.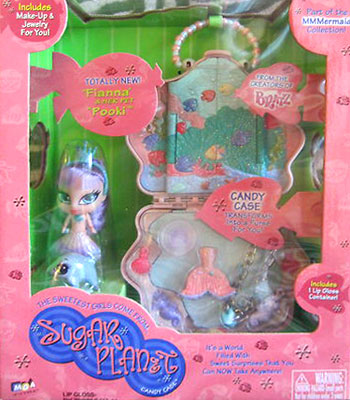 Tropical Punch
Kia came with Huku.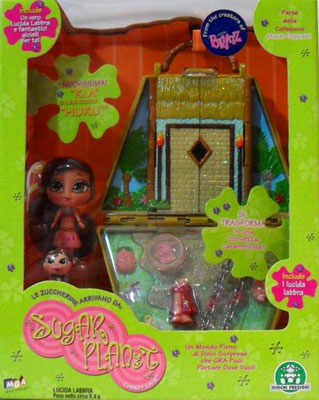 Individually Sold Dolls
There were also three dolls sold individually in 2002. They each came with a pet, skirt, charm bracelet and makeup.
Frozen Candy
Flurree came with Trixx.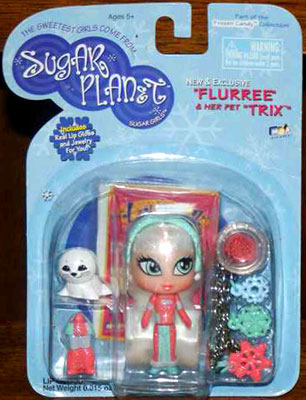 MMMermaid
Arianna came with Skye.
Tropical Punch
Leela came with Tiki.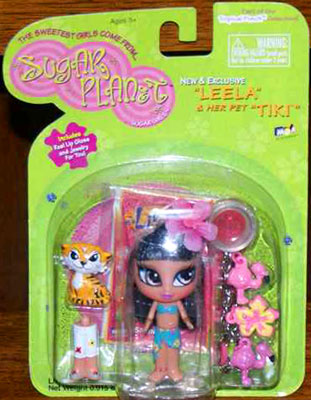 Candy Case Playsets
I'm not sure if these three 2003 sets were ever released, although one book was produced featuring Frolique (I've not found any books for Hailee or Nebula).
"This adorable play set actually transforms into a purse, and includes all the sweet things that made Sugar Planet such a hit: secret compartments, collectible charms, real fashion make-up and the cutest (and newest) little Sugar Girls around! Available in three delicious styles!"
Sugar Planet Transformable Candy Case

Totally New Sugar Girl

Totally New Sugar Pet

2 Mix 'N' Match Fashion Outfits

1 Container of Make-Up

Make-Up Compact with Mirror

3 Collectible Charms

Bracelet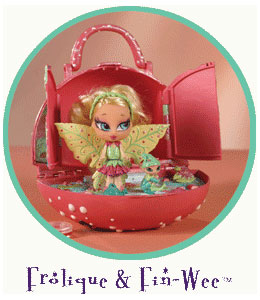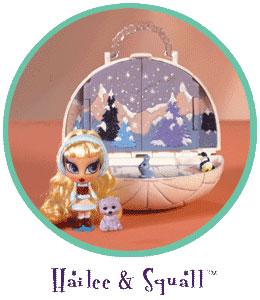 Individually Sold Dolls
Two books were produced featuring Pyxis and Cosma (I've not found a book for Slushee).
"These character sets are available in 3 distinctively fun, magical world themes, the Sugar Planet character packs come complete with a beautifully detailed new Sugar Girl and 'best friend' pet, a mix 'n' match outfit, and real make-up that you can wear!"
Totally New Sugar Girl

Totally New Best Friend Pet
2 Mix 'n' Match Fashion Outfits

Container of Real Make-Up

1 Charm Bracelet

2 Totally New Charms
| | | |
| --- | --- | --- |
| Fairyland | Arctic | Space |
| | | |
| | |
| --- | --- |
| | |
| Fairyland ~ Pyxis came with Zip | Space ~ Cosma came with Almos |
For Sale