Lady LovelyLocks :: Accessories
"A fairy tale world of pixietail magic!"
Lady LovelyLocks was produced by Mattel from 1987-89. The dolls were 8.5 inches tall, with long, colourful hair and each came with Pixietails - small plastic animals with long silky tails which could be clipped to hair or clothes. There were also pets, playsets, clothes and a cartoon series as well as lots of releated merchandise.
Lady Lovely Locks was sold in several countries under two different names:
UK & USA: Lady LovelyLocks
Europe: Dame Boucleline
[eBay links are sponsored]
Images on this page found on eBay, with thanks to various sellers!
Books
There were several story books, an annual and various comics produced.
Story Books
An Enchanting Fairy-Tale Adventure
For the Love of Lovely Locks
Lady Lovely Locks Original Story
Silkypup Saves the Day
Silkypup's Butterfly Adventure
The Golden Ball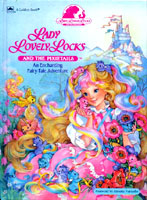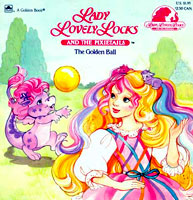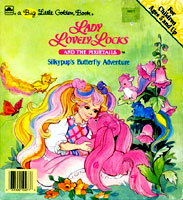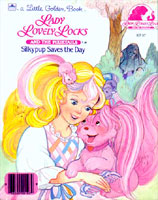 Annual
Sold in the UK in 1898.
Comics
Videos
There was a 20 episode cartoon series and five videos produced.
Lady Lovely Locks
The Wishing Bone
The Nobel Deed
The Dragon Tree
To Take A Castle
| | | | | |
| --- | --- | --- | --- | --- |
| | | | | |
| Lady Lovely Locks | The Wishing Bone | The Nobel Deed | The Dragon Tree | To Take A Castle |
Other Item
Other items included puzzles, stationary, bags, bedroom items and kitchen items.
For Sale