Lady LovelyLocks :: Playsets
"A fairy tale world of pixietail magic!"
Lady LovelyLocks was produced by Mattel from 1987-89. The dolls were 8.5 inches tall, with long, colourful hair and each came with Pixietails - small plastic animals with long silky tails which could be clipped to hair or clothes. There were also pets, playsets, clothes and a cartoon series as well as lots of releated merchandise.
Lady Lovely Locks was sold in several countries under two different names:
UK & USA: Lady LovelyLocks
Europe: Dame Boucleline
[eBay links are sponsored]
Images on this page thanks to nhtpirate and hellobarbieshoppe!
Original Playsets [1986]
There were two playsets released in the original series. Each playset set also came with various Pixietail.
Castle LovelyLocks
"Welcome to the most beautiful castle in the Kingdom! When children open the castle with the special key and swing open the gates, they'll discover an enchanting courtyard filled with excitement and fun - there's a swing and slide for the Pixietails and the Maidens! There's a gazebo where two Maidens can sit and have a tea party! And perches for the Pixietails for Pixietail picnics and seesaw for Pixietail play! The basket/elevator takes the Pixietails up to the guard tower to watch out for Duchess RavenWaves! Set includes 8 Pixietails and lots of accessories (35 in all)!"
I'm unsure which Pixietails came with this sets as there are more than eight shown and later publicity text states it came with seven.
Pixietails Treehouse
"The Pixietail Tree House is the magical home of the Pixietails. This is where Lady LovelyLocks and the Maidens spend afternoons with their Pixietails sharing beauty secrets and new hairstyles! Inside, there's a vanity with "mirror" for Lady LovelyLocks and lots of accessories for Pixietail house play. Comes with six Pixietails."
Pixietails Treehouse ~ Pixietails
Peach Bunny with Peach & Yellow Tail
Green Bunny with Blue, Green & White Tail
Blue Chipmunk with Pink & Blue Tail
Pink Chipmonk with Yellow & Pink Tail
Aqua Bird with Blue, Peach, White & Green Tail
Purple Bird with Pink & Purple Tail
Enchanted Island :: Playsets [1987]
There were three playsets released in the Enchanted Island series. Each playset set also came with various Pixietail
Fairytale Bedroom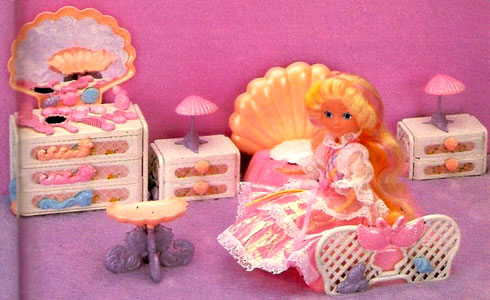 Sea Magic Salon
"Little girls can have hours of hairstyling fun with this enchanting, sea shell-shaped beauty shop for Lady LovelyLocks doll and her friends. Over 15 pieces for hairstyling fun! Includes retractable "mirror", comb, rollers, blow dryer, reclining swan chair and compact case for storage & 4 Pixietails! "
Sea Magic Salon ~ Pixietails
Yellow Seahorse with Pink & Peach Tail
Purple Fish with Blue & Purple Tail
Green Turtle with Blue & Green Tail
Pink Snail with Pink & Purple Tail
Fairytale Swan Boat
"Fairy tale boat to the magical lands!"
Playsets [1988]
There was one playset released in 1988. It also came with three Pixietails.
Beauty Magic Throne
Beauty Magic Throne ~ Pixietails
For Sale